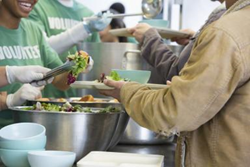 Allenhurst, New Jersey (PRWEB) November 21, 2014
While many Jersey Shore restaurants are remaining open to guests on Thanksgiving, some restaurants are extending their services far beyond the kitchen doors. Eateries such as Giamano's Ristorante in Bradley Beach, New Jersey, Langosta Lounge in Asbury Park, New Jersey, and JBJ Soul Kitchen in Red Bank, New Jersey are donating meals and their services to feed those in need.
Giamano's Ristorante is hosting a Thanksgiving dinner at the Salvation Army in Asbury Park, New Jersey on November 27th, 2014. The family-run restaurant directly donates and prepares all the food for this event. Also included are photography, portraits, drum sessions, and a doctor on premises. Visit their website for more information on how you can help at http://www.giamanos.com/community-outreach.
A celebration will be held at Langosta Lounge in Asbury Park, New Jersey on Thanksgiving Day from 11:00 am to 2:00 pm. Attendees can enjoy a free meal and entertainment by local drummers and musicians. Anyone who is interested in participating, contact the Jersey Shore Drum and Dance Group on Facebook at https://www.facebook.com/groups/584200294947884/?fref=ts.
Customers give back every day at JBJ Soul Kitchen in Red Bank, New Jersey. The community-driven restaurant invites guests for a healthy meal in exchange for their services or a generous donation. JBJ Soul Kitchen is a program of the Jon Bon Jovi Soul Foundation, a 501c3 non-profit corporation. The organization celebrated their third anniversary in October. To volunteer, visit http://www.jbjsoulkitchen.org/volunteer.
About Bielat Santore & Company
Bielat Santore & Company is an established commercial real estate firm. The company's expertise lies chiefly within the restaurant and hospitality industry, specializing in the sale of restaurants and other food and beverage real estate businesses. Since 1978, the principals of Bielat Santore & Company, Barry Bielat and Richard Santore, have sold more restaurants and similar type properties in New Jersey than any other real estate company. Furthermore, the firm has secured in excess of $500,000,000 in financing to facilitate these transactions. Visit the company's website, http://www.123bsc.com for the latest in new listings, property searches, available land, market data, financing trends, RSS feeds, press releases and more.