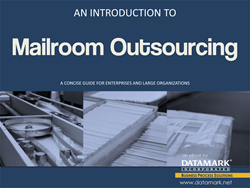 Turning over mail operations to a provider allows you to focus time and talent on your core competencies: those key features of your product or service that differentiate your company from competitors.
El Paso, TX (PRWEB) December 13, 2014
DATAMARK, Inc., a leading provider of business process solutions, today announced the release of a new eBook addressing the outsourcing of mail operations in enterprises and other large organizations.
"An Introduction to Mailroom Outsourcing," available in .pdf format, covers the following topics and includes links to resources for more in-depth information:
Introduction: Why Outsource Mail Operations?
Chapter 1: The "Digital Mailroom"
Chapter 2: Transform Processes
Chapter 3: Mailroom Outsourcing in Action: Case Studies
Chapter 4: HR Management: A Compassionate Approach to Outsourcing
"An Introduction to Mailroom Outsourcing" is available for complimentary download at this link:
http://info.datamark.net/mailroomoutsourcingebook.html
About DATAMARK
DATAMARK, Inc. is a leading business process outsourcing company specializing in high-volume digital mailroom management, document processing/document management, bilingual (English/Spanish) contact centers and process improvement consulting for Fortune 500 companies and other large enterprises.
Headquartered in El Paso, Texas, DATAMARK employs nearly 2,200 people in its U.S., Mexico and India facilities. For more information, visit http://www.datamark.net. Follow industry news and trends at DATAMARK's Outsourcing Insights blog at http://www.datamark.net/blog.