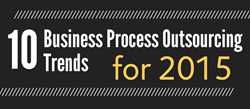 El Paso, Texas (PRWEB) December 23, 2014
DATAMARK, Inc., a leading provider of business process solutions, including bilingual (English/Spanish) contact center services, recently announced the release of a new infographic, "10 Business Process Outsouring Trends for 2015."
Below are the first five BPO trends:
1. Innovation becomes the status quo
Buyers pushed for innovation from BPO providers for years, and now they are seeing it ingrained into the industry at last. A survey of 100 firms found that two-thirds have innovation incentives built into outsourcing arrangements, and nearly half meet regularly with providers to discuss innovation. Eighty percent said outsourcing partners "actively encourage innovation and ideas."
2. Contract structuring gets creative
BPO providers will get creative to land mega-sized, multi-year outsourcing deals. Innovative contract terms will include up-front payment for purchase of a client's assets such as hardware, software, intellectual property and the transfer of workers.
3. Buyers seek balanced shores
Competitive BPO providers will offer clients flexible outsourcing location options, known as balanced-shore outsourcing. Locations will include at-home; on-site; off-site within the same city; off-site at a lower-cost-of-living city; nearshore; farshore; and blends of these arrangements.
4. Smaller, shorter BPO engagements
"Flexibility" is the theme of BPO contracts as buyers split work among several specialist providers, rather than bundling it into one large contract with one provider. The result will be smaller, shorter BPO engagements. Experienced buyers will seek "domain expertise" from providers, instead of simply the lowest price.
5. Software robots on the rise
Providers of robotic process automation (RPA) software will aggressively market to BPOs these smart platforms that handle tedious, low-skill decision-making traditionally handled by clerical workers. Some BPO providers are incorporating RPA in their solutions to help reduce costs for their clients. By 2018, these digitally powered business processes will require 50 percent less BPO workers, Gartner predicts.
The remainder of the top 10 trends can be seen by viewing the infographic via this link:
http://info.datamark.net/2015-BPO-Trends.html
About DATAMARK
DATAMARK, Inc. is a leading business process outsourcing company specializing in high-volume digital mailroom management, document processing/document management, bilingual (English/Spanish) contact centers and process improvement consulting for Fortune 500 companies and other large enterprises.
Headquartered in El Paso, Texas, DATAMARK employs nearly 2,200 people in its U.S., Mexico and India facilities. For more information, visit http://www.datamark.net. Follow industry news and trends at DATAMARK's Outsourcing Insights blog at http://www.datamark.net/blog.