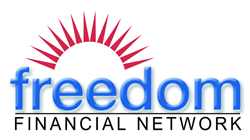 Many people are looking to offset holiday expenses by adding income. Fortunately, if they are creative and industrious, they have several options.
San Mateo, Calif. (PRWEB) November 24, 2014
This year, the economy is looking up from its post-recession doldrums, but many people are facing the holiday gift-giving season with trepidation, says Kevin Gallegos, vice president of Phoenix operations for Freedom Financial Network (FFN). Fortunately, there's still time to make use of a smart combination of spending and earning to keep the holidays merry.
The National Retail Federation's annual holiday spending forecast anticipates consumers will bump up their spending this year by more than 4 percent. But a separate forecast from PricewaterhouseCoopers says consumers will spend nearly 7 percent less, for an average household expenditure of about $684 during the holidays.
"It's true that the economy is more solid than it has been, but it's also true that people may be seeing higher costs for rent, food, health care, child care and fuel," Gallegos said. "Many people are looking to avoid adding to their holiday outlays – or to offset holiday expenses by adding income. Fortunately, if they are creative and industrious, they have several options."
1. Take a seasonal job. With unemployment finally down, many retailers are adding seasonal employees. Retailers anticipate hiring up to 800,000 seasonal workers nationwide. Even a few hours a week can add to the holiday kitty. Many restaurants hire additional seasonal help, as well. Or look to traditional temporary employment agencies for work.
2. Buy and sell. Some people find success buying used items, repairing them, and selling them at a higher price. "Flippable" items might be anything from clothing to appliances to smartphones, for those who have the skills to clean, repair or upgrade desirable goods. Check Craigslist, yard sales or eBay to start. Vintage and handmade goods are in demand online (on sites such as Etsy.com) or at craft sales. Or clean out garages – yours or a neighbor's – and sell scrap metal for a profit.
3. Go on a deprivation diet. Many people want the latest gadget now, but even if you have the money to buy something, postponing until the holidays can result in a much-desired package under the Christmas tree or on one special night of Hanukkah. "This practice can make a holiday as exciting as when you were a kid," Gallegos said. "In addition, you won't spend any additional money over buying the gadget now, and you might nab a better deal later."
4. Gift to others (and yourself). Check cupboards, closets and garages for goods to sell on Craigslist or eBay. Maybe a child outgrew a bicycle after just a few trips around the block, or no one in the house became a panini chef after all. One household's trash is another's treasure – and one item can make a great present at a new home and put cash in the pocket of the original owner. "If you have a storage unit, check it carefully," Gallegos said. "You're already living without those items. If you're ambitious, you can clear out the unit and close it up, then use the monthly rental fee to pay down debt or add to savings."
5. Get cooking. Those with kitchen skills might be able to turn talent into dollars. Home cooks might bake and sell holiday cookies, pre-package full holiday meals for those less culinarily endowed, or whip up freezer meals to help others who are extra-busy at year-end. Be sure to comply with local health and licensing regulations.
6. Leverage skills. Advertise experience and capabilities to friends and neighbors. Perhaps it is tutoring or child care, patiently de-bugging computers, programming smartphones or electronics, clearing leaves and snow, balancing a checkbook, doing heavy cleaning, detailing a vehicle, walking or cleaning up after pets, or helping people who are ill or just busy to de-clutter and get organized. To spread the word further, look to the Internet. Websites such as Rover.com (for pet sitting) can help get started.
7. Return purchases. Some people who are in the worst financial shape got there by over-spending. In that case, returning unused items that are still within the return period can result in cash back, or a reduced credit card bill. "If you are purchasing items while you don't have enough money for expenses, you definitely need to cut back," Gallegos said. "Return unneeded items immediately, and commit to purchasing only with cash or debit in the future."
8. Rent a room. People with spare space, or who will be traveling over the holidays, can consider earning income on a one-time or ongoing basis by renting out that space. Whether a traditional roommate or via services like airbnb.com, more people are renting space more flexibly. Again, would-be landlords should check local regulations first.
9. Become a driver. Services such as Lyft and Uber allow individuals to turn their vehicles into cash registers. Be careful here, too, to follow local laws and take safety precautions.
10. Go the medical route. It's not a long-term solution, but for those willing to literally put themselves on the line, it is possible to earn money by participating in selected medical studies, or selling blood products or even long hair. Seek out legitimate medical trials from local university hospitals or via the National Institutes of Health.
"These represent only some ideas for earning and saving money," Gallegos said. "And remember, if the financial situation is truly dire, and you have serious debt, consider looking into available government assistance or seeking relief from your debts via a consumer credit advocate."
Freedom Financial Network (http://www.freedomfinancialnetwork.com)
Freedom Financial Network, LLC (FFN), provides comprehensive consumer credit advocacy services. Through the FFN family of companies – Freedom Debt Relief, Freedom Tax Relief, ConsolidationPlus, FreedomPlus and Bills.com – FFN works as an independent advocate to provide comprehensive financial solutions, including debt consolidation, debt negotiation (settlement) and tax resolution services for consumers struggling with debt. The company, which has resolved more than $3 billion in debt and assisted more than 265,000 clients since 2002, is an accredited member of the American Fair Credit Council, and a platinum member of the International Association of Professional Debt Arbitrators.
Based in San Mateo, Calif., FFN also operates an office in Tempe, Ariz. The company, with more than 700 employees, was voted one of the best places to work in the San Francisco Bay area in 2008, 2009, 2012, 2013 and 2014, and in the Phoenix area in 2008, 2009, 2010, 2012 and 2013. FFN's founders are recipients of the Northern California Ernst & Young Entrepreneur of the Year Award.
(end)