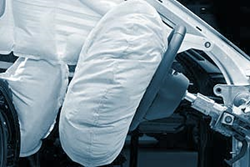 To file a Takata airbag lawsuit, turn to the law firm with the Experience, Dedication, and Trust you deserve. Contact the Oliver Law Group for a free case review by calling 800-939-7878 or visiting www.legalactionnow.com
Detroit MI (PRWEB) November 24, 2014
As Takata airbag lawsuits mount in U.S. courts, a new report suggests that secret settlements in some earlier personal injury lawsuits may have helped conceal problems with the recalled airbags, The Oliver Law Group P.C. reports. According to Bloomberg News, the confidential settlements may also seal off information plaintiffs in other Takata airbag lawsuits could use to pursue their claims.
(bloomberg.com/news/2014-11-17/air-bag-settlements-keep-details-from-other-victims.html, Bloomberg News, November 17, 2014)
Last month, a Takata airbag recall was issued for more than 8 million vehicles in the U.S. manufactured by General Motors, Chrysler/Dodge, Ford, Toyota/Lexus, Honda/Acura, Mazda, Mitsubishi, BMW, Subaru, and Nissan, due to airbags that may be prone to rupture upon deployment. Should this occur, the airbags will release metal fragments into the air that have the potential to cause serious injuries to vehicle occupants.
(nhtsa.gov/About+NHTSA/Press+Releases/2014/ci.Vehicle-owners-with-defective-airbags-urged-to-take-immediate-action.print, October 22, 2014)
According to The New York Times, Takata airbags have been implicated in four deaths and 139 injuries. Globally, more than 12 million vehicles have been caught up in the Takata airbag recall.
(nytimes.com/2014/11/07/business/airbag-maker-takata-is-said-to-have-conducted-secret-tests.html?_r=1, New York Times, November 7, 2014)
So far, the Takata airbag recall has been limited to areas of the country with hot, humid climates. But on November 17th, the National Highway Traffic Safety Administration (NHTS) called for a broader, nationwide recall. The NHTSA acted after it investigated an airbag incident in North Carolina, which is outside the geographical areas covered by the current recall. The regulator warned Takata and automakers that if such recall is not instituted, it will use its own powers to order one.
(forbes.com/sites/joannmuller/2014/11/18/u-s-calls-for-nationwide-recall-of-takata-airbags/, Forbes, November 18, 2014)
According to Bloomberg, a dozen lawsuits had been filed on behalf of alleged victims of Takata airbags in the years prior to the recall. None have gone to trial, and at least five have settled. An attorney who represented plaintiffs in one of the settled Takata airbag lawsuits told Bloomberg that the company wanted the case resolved quickly, and suggested that Takata may have been trying to "pay us off to shut us up." The attorney was unable to disclose details of the Takata settlement in that case.
As Bloomberg points out, confidential settlements like those involving Takata aren't unusual, and generally make sense for all of the parties involved. But legal and safety advocate contend that such arrangements keep vital safety information concealed from the public and regulators.
According to The Oliver Law Group, this issue is vitally important, as court documents indicate that Takata airbag lawsuits are now being filed across the country. In anticipation of a large litigation, plaintiffs in these claims have asked the U.S. Judicial Panel on Multidistrict Litigation (JPML) to consolidate all federally-filed cases in a single court for coordinated pretrial proceeding. The Panel is scheduled to hear Oral Arguments on the matter on December 4th.
(In Re: Takata Airbag Litigation – MDL No. 2599)
The Oliver Law Group is offering free legal reviews to consumers who purchased or leased vehicles built with allegedly defective Takata airbags. To learn more about filing a Takata airbag lawsuit, please contact our office by calling 800-939-7878 today or visit http://www.legalactionnow.com.
About The Oliver Law Group P.C. And Filing A Takata Airbag Lawsuit
Oliver Law Group P.C. is a different kind of law firm. One that focuses on the needs of the injured first. A compassionate law firm dedicated to fighting for the rights of victims and their families, and doing everything necessary to ensure those rights.
The experience of a large firm. The 1-on-1 dedication of a small firm. A reputation built on trust.
Experience. Dedication. Trust. Oliver Law Group P.C.
If you would like to learn more about filing a Takata airbag lawsuit, turn to the law firm with the Experience, Dedication, and Trust you deserve. Contact the Oliver Law Group P.C. for your free case review by calling toll free 800-939-7878 today.