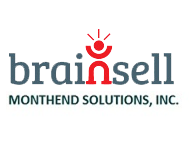 Topsfield, MA (PRWEB) November 24, 2014
BrainSell (http://www.brainsell.net), a leading business software solutions provider, is pleased to announce their acquisition of Monthend Solutions Inc.'s Sage 100 ERP practice.
This is BrainSell's fifth company acquisition of 2014. With the addition of Monthend Solutions, BrainSell continues to develop its presence in Los Angeles while also maintaining locations in Minnesota, Maine, New Hampshire, New York, Massachusetts, Kentucky, Virginia, Georgia, Illinois, Florida, Colorado, Minnesota and Utah.
Monthend Solution Inc.'s clients will benefit from BrainSell's diverse and seasoned knowledge base. BrainSell's clients will benefit from Monthend Solutions' years of experience as Sage ERP consultants in the Los Angeles area.
Monthend Solutions's President, Brian Cox, sees strong benefits for his clients from the acquisition.
"We are excited to join the BrainSell team," said Brian Cox, President of Monthend Solutions. "It assures that present and future clients will always have access to the high-quality services and products they have come to expect from Monthend Solutions."
Cox and his team plan to continue to be there for any client needs. The acquisition comes as an enhancement to the ongoing Sage 100 ERP services provided by the company.
"In a continued effort to expand our geographic reach with like-minded consultants, we are pleased to expand our presence in the Los Angeles market," said Jim Ward, president and CEO of BrainSell. "We're excited to open the dialog up between ERP users about their process and how we can expand and improve their existing solutions. Brian will be a fantastic asset to our current client base and we're thrilled to be servicing his clients moving forward."
Sage 100 ERP provides best-of-breed ERP software for individuals for scaling businesses. BrainSell has a bench of Sage Certified Consultants ready to help current Sage ERP users with training, implantation and customization services.
BrainSell is a top-tier Sage partner and is certified for Sage 50 ERP, Sage 100 ERP, Sage 300 ERP, Sage 500 ERP, Sage X3 in addition to Quickbooks and NetSuite. In addition to Sage ERP products, BrainSell is also certified in a plethora of CRM products including:

Salesforce.com
SugarCRM
Sage CRM
Infor CRM (formerly Saleslogix)
Microsoft Dynamics CRM
Act!
About BrainSell
BrainSell is a business solutions company that is dedicated to helping businesses grow, create a delighted customer base and achieve grand success. BrainSell provides comprehensive ERP, CRM, and marketing automation solutions and services, including training, implementation and software development. Founded in 1994 and headquartered in Topsfield, Massachusetts, BrainSell continues to grow in product knowledge and offerings.