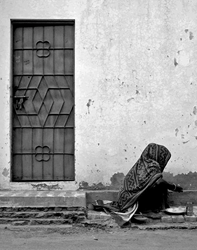 (PRWEB) November 24, 2014
Carnegie Council for Ethics in International Affairs is delighted to announce the winners of its second annual International Student Photo Contest. This year's theme was "Fairness and Its Opposite."
The topic was deliberately made as broad as possible, and the judges were intrigued and pleased to see the wide range of creative and thoughtful interpretations.
First prize, featured here, is "Continuity" by Anum Rehman, of Nishat Girls High School, Pakistan. Ms. Rehman tells us that her photo illustrates both fairness and its opposite. The fairness aspect is that the person inside the door helped this beggar by giving her food. But its opposite is that they left her outside, instead of finding out about her problems and trying to solve them. Instead, they leave her to beg again.
The second prize went to Imrul Islam of Vassar College, who is from Bangladesh. To see all of the photo entries, click here.
It's not too late to enter Carnegie Council's current contests. Winners receive Amazon Gift Certificates:
2014 International Student/Teacher Essay Contest: "Imagining a Better Future"
ESSAY TOPIC: What would you like to see happen during this century to make the world a better place? Open to teachers at all levels and students at the high school, undergraduate, or graduate level. DEADLINE: January 5, 2015.
Trans-Pacific Contest, 2015
ESSAY OR VIDEO TOPIC: What is the future of U.S.-Asia relations or of the United States and one of the listed Asian countries? Please use specific examples or stories to illustrate your points. Each entry must be a collaboration between a student who is a citizen of the United States and a student from one of the listed East Asian countries. DEADLINE: April 30, 2015.
Founded by Andrew Carnegie in 1914, Carnegie Council for Ethics in International Affairs is an educational, nonprofit, nonpartisan organization that produces lectures, publications, and multimedia materials on the ethical challenges of living in a globalized world. For more information, go to http://www.carnegiecouncil.org