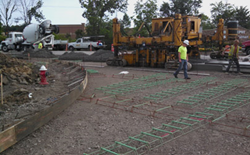 Construction along any residential street will inevitably have impacts on residents and motorists. A+B contracting is innovative because it gives the contractor an incentive to reduce those impacts. - City of Lorain Mayor Chase Ritenauer
Elyria, Ohio (PRWEB) November 24, 2014
KS Associates, Inc., a civil engineering and surveying firm located in Elyria, Ohio, has completed construction inspection and administration services for the Jaeger Road Improvement Project for the City of Lorain (Ohio). Now opened to traffic, this $4.6 million transportation infrastructure investment will improve traffic flow, provide improved access to commercial and residential properties, and provide a safer and more reliable route for those traveling in the City of Lorain.
KS Associates designed the project and served as the contract administrator, acting as the liaison between the construction contractor Fabrizi Trucking & Paving and the City of Lorain. KS Associates' role was to administer the bidding process and monitor the project for compliance with plans, specifications, and the contractual schedule.
Minimizing traffic delays and congestion was a critical success factor for this project. Jaeger Road is a heavily traveled urban artery that provides direct access to Mercy Regional Medical Center, the City's Lighthouse Village shopping center, and residential subdivisions. To reduce traffic disruptions, KS Associates implemented an A+B bidding approach. This cost-plus-time bidding model requires contractors to bid not only on construction work items (A), but also on the number of days traffic is disrupted due to construction activities (B).
With A+B bidding, the contractor is given a financial incentive if they reduce the duration of detours specified in the contract. Inversely, the contractor is assessed fees if detours run over schedule. On the Jeager Road project, A+B contracting resulted in 21 fewer days of traffic inconveniences for the City of Lorain. The result was a $875 rebate awarded to Fabrizi for their ability to reduce traffic impacts by one day less than the 180 days specified in the contract.
According to City of Lorain Mayor Chase Ritenauer, "Construction along any residential street will inevitably have impacts on residents and motorists. A+B Contracting is innovative because it gives the contractor an incentive to reduce those impacts. The contractor must consider how their work will affect the community, then implement ways in which that work will cause less disruption, such as detours and traffic delays."
The Jaeger Road project included removing the existing deteriorated asphalt roadway and reconstructing it with concrete curbed pavement, which is designed to reduce the need for future costly and inconvenient repairs; constructing more than 4,000 feet of new sewer to improve drainage; installing five-foot sidewalks and a shared-use roadway to accommodate bicycle traffic; adding turning lanes and new traffic signals at the Kolbe Road and Leavitt Road intersections; and addressing grading at the Kolbe Road intersection to improve lines of sight and driver visibility, thus enhancing safety.
About KS Associates, Inc.:
KS Associates, Inc. is a civil engineering and land surveying firm founded in 1987. The firm provides planning, design, bidding and construction phase services related to public infrastructure projects in the areas of transportation, potable water, waste water and storm water; site development engineering services for institutional, commercial and residential uses; coastal engineering services; land surveying and mapping services; and 3D laser scanning services. KS Associates, Inc. is a Disadvantaged Business Enterprise (DBE). For more information visit: http://www.ksassociates.com.