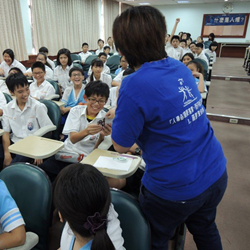 Tolerance requires active vigilance, renewed each day, against xenophobia, discrimination and hatred.
(PRWEB) November 21, 2014
Try asking 20 people on the street "What are human rights?" You will probably find most of them don't have a clue. And why is this important? Because, to a very large degree, these rights determine the quality of life.
An essential aspect of human rights is tolerance, a quality Scientology Founder L. Ron Hubbard described as "the cornerstone of human relations."
In his annual International Day of Tolerance message November 16, UN Secretary-General Ban Ki-moon said, "We live in an era of rising and violent extremism, radicalism and widening conflicts that are characterized by a fundamental disregard for human life." Tolerance for the ethnic, cultural and religious differences between people makes it possible for them to live together in peace.
To promote tolerance and raise awareness on human rights, Scientologists carried out International Day of Tolerance activities, including:

A human rights open house at the Church of Scientology of London;
Plymouth Scientologists distributed copies of the What are Human Rights booklets in center of their city;
Belgian Scientologists set up a human rights information booth near Brussels' Grand Place;
In Geneva, the home of the Office of the United Nations High Commissioner for Human Rights, the Church helped organize a Tolerance Day Conference on behalf of Youth for Human Rights;
In Italy, Scientology Churches in Padua and Brescia hosted International Day of Tolerance conferences;
Members of the Association for Human Rights and Tolerance of Italy, a non-profit organization that works in coordination with the Church of Scientology of Milan, spent the International Day of Tolerance delivering human rights education training to 600 teachers in Lome, the capital of the West African country of Togo;
In Hungary, volunteers distributed What are Human Rights booklets in the town of Szeged;
Mexican Scientologists organized a human rights petition "sign-a-thon," calling for the government to enforce human rights standards laid out in the United Nations Universal Declaration of Human Rights;
And in Taiwan, Scientologists reached out to the next generation of human rights advocates with human rights classes and assemblies in Kaohsiung and Taichung schools.
In his 2014 message for the day, the Director General of UNESCO (United Nations Educational, Scientific and Cultural Organization) said, "tolerance requires active vigilance, renewed each day, against xenophobia, discrimination and hatred." This is a challenge and mission embraced by the Church of Scientology and the many Scientologists who promote human rights awareness throughout the year.
For more than 40 years, Churches of Scientology and their members, through their own activities and partnerships with human rights organizations and government bodies, have worked to raise popular awareness and implementation of the Universal Declaration of Human Rights.
The Church of Scientology supports United for Human Rights(UHR) and its program for young people, Youth for Human Rights. United for Human Rights has provided educational materials in 17 languages to more than 150 nations. Some 21,000 schools have used its human rights materials.
To make United for Human Rights and other humanitarian initiatives and social betterment programs more broadly available, the Church of Scientology has published a new brochure, Voice for Humanity—Real Help, Real Results.
Inspired by the words of L. Ron Hubbard, Founder of the Scientology religion, that "a being is only as valuable as he can serve others," Scientologists wholeheartedly support these programs. Participation and collaboration in these initiatives is invited and welcomed from all who seek to improve conditions for themselves and others.
For more information, visit the Scientology website at http://www.Scientology.org/how-we-help/voice-for-humanity.