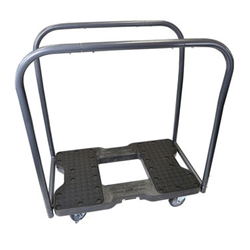 Urbana, IA (PRWEB) November 21, 2014
The moving supplies category of products continues to expand at US Cargo Control, with the company adding new items to better serve its growing customer base of professional moving companies.
Sarah Watson, Director of Business Development for the Moving Supplies division says the new items were brought in based on suggestions from current customers.
"We're always open to adding products that are suggested by our customers," says Watson. "Our team takes great pride in developing our product line tailored for our customers. They are the ultimate feedback providers, equipment inventors, and field experts."
The new products include an expansion of the company's Snap-Loc moving dolly items, including a Snap-Loc Panel Cart and a Snap-Lock Push Bar Platform Truck. Both products feature the heavy duty Snap-Loc dolly, which boasts a 1,500 lb. capacity, but the two new handle configurations offer users easier and safer methods to maneuver the dolly.
Heavy duty pallet bands were also recently added to the Moving Straps & Mover Bands category, offering customers three larger options in addition to the company's popular rubber mover bands.
Watson says more new products are also planned for the first quarter of 2015, including an appliance truck with a new kickback feature, black floor runners, and reflective seatbelt covers. Custom stenciling options for the company's popular line of tie down straps is also a new feature that will be available to customers.
"We're extremely excited about the custom-stenciled straps option," says Watson. "Straps stenciled with a company's name are an excellent way to create a professional image, as well as offer a method of loss prevention."
Moving supplies can be purchased online at USCargoControl.com, or by calling the company's dedicated phone line for moving supplies at 800-867-1210.
###
About US Cargo Control
US Cargo Control is a leader in the cargo control industry, specializing in lifting slings, cargo control, rigging equipment and moving supplies. Focused on offering quality products, timely delivery, and an excellent customer experience, customers can purchase products on the company's website, http://www.USCargoControl.com or by calling the company's dedicated team of moving supplies specialists at 800-867-1210.