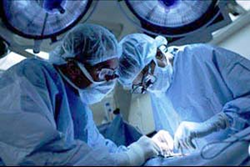 To Discuss Filing A Power Morcellator Lawsuit, Please Contact Alonso Krangle LLP At 1-800-403-6191 Or Visit Our website, fightforvictims.com.
New York NY (PRWEB) November 24, 2014
Two U.S. Senators have asked the U.S. Food and Drug Administration (FDA) to provide clear information to women about the potential cancer risks they face if they undergo a hysterectomy or myomectomy that uses a power morcellator device. Sen. Elizabeth Warren (D-MA) and Kirsten Gillibrand (D-NY) addressed their letter of November 18, 2014 to FDA Commissioner Dr. Margaret Hamburg. The senators wrote that they have personally met with constituents who have been tragically impacted by the spread of cancer after a morcellation procedure. Alonso Krangle LLP are also aware of the tragic consequences of morcellation due to the death of its client, Brenda Leuzzi of New York, who was diagnosed with cancer after having morcellator surgery. The senators acknowledged the attention the FDA has given to power morcellators, but they were concerned about the "lack of consensus" in the medical community regarding the surgical device. Here is a link to the Senators' letter: Sen. Elizabeth Warren (D-MA) and Kirsten Gillibrand (D-NY) letter to FDA regarding power morcellators
Senators Warren and Gillibrand suggested that the FDA's "next steps need to be firmly based in science and put patients first." The political leaders urged the FDA to "strongly consider the voices of the women and their families" as they deliberate about what further actions to take in regards to morcellators. The senators also urged the FDA to work with the medical, research, and patient communities "to help develop a decisive consensus about power morcellation that provides clarity to women, their families and their physicians about the best hysterectomy and myomectomy options, and provide us with information about any efforts you undertake."
A laparoscopic power morcellator is used in minimally invasive procedures to slice uterine tissue and fibroids into fragments so that they can be removed through a small incision in the abdomen. According to the FDA, the undetected cancer cells are spread when the tissue is removed from the abdomen. In April, the FDA issued a safety alert urging doctors to discontinue using power morcellators for hysterectomies, fibroid removals and other gynecological surgeries. An FDA analysis found that an estimated 1 in 350 women undergoing a hysterectomy or myomectomy has an unsuspected uterine sarcoma that includes leiomyosarcoma, a rare but aggressive form of cancer that develops from smooth muscle tissue in the uterus and is spread by the morcellator. According to the FDA, spreading of cancerous tissue can "upstage" or quickly change the stage of cancer from stage 1 to stage 4. The FDA's announcement in April, led Johnson & Johnson to suspend global sales of power morcellators by its Ethicon Endo Surgery division until the company received further direction from the medical community and the FDA on the medical devices.
[fda.gov/downloads/MedicalDevices/Safety/AlertsandNotices/UCM393589.pdf, FDA, April 17, 2014]
[reuters.com/article/2014/04/30/us-johnson-johnson-device-idUSKBN0DG06G20140430, April 30, 2014]
Senators Warren and Gillibrand are not alone in making their concerns over power morcellators known to the FDA. George Leuzzi, the husband of Brenda Leuzzi who died of cancer in October, wrote a letter to Dr. Hamburg and Dr. Peter Lurie, the FDA's acting associate commissioner for policy and planning in the Office of the Commissioner.
According to the Democrat & Chronicle, which reprinted the letter, Mr. Leuzzi described his wife's pain and suffering after she was given a diagnosis of death within 18 months. Mr. Leuzzi begged the FDA officials to honor his wife and other women like his wife by banning power morcellators before "one more woman and her family have to suffer this nightmare."
[democratandchronicle.com/story/all-about-health/2014/11/17/grieving-husband-pleads-with-fda-to-end-morcellation/19166573/, November 17, 2014]
Andy Alonso of Alonso & Krangle LLP and Dr. Francois Blaudeau with Heninger Garrison Davis, LLC, filed a morcellation lawsuit against Johnson & Johnson's Ethicon Endo Surgery division on behalf of Brenda Leuzzi two weeks after the FDA issued its safety alert. According to the lawsuit filed in the U.S. District Court, Western District of New York, Mrs. Leuzzi underwent a robot-assisted hysterectomy in which a power morcellator was used. The power morcellation complaint contends that Mrs. Leuzzi did not have cancer before she had the surgery in September 2012 but was diagnosed with uterine leiomyosarcoma within the same month. The power morcellation lawsuit asserts that Johnson & Johnson and its Ethicon unit were aware of the risks posed by the medical device such as the Morcellex morcellator and failed to warn of the dangers and hazards of using the device for uterine morcellation procedures. (Case No. 6:14-cv-06218)
About Alonso Krangle LLP And Filing A Power Morcellator Lawsuit
Andres Alonso And David Krangle, Attorneys With 40 Years Of Collective Legal Experience, Have Focused Their Law Practice On The Handling Of Significant Personal Injury Cases, Defective Drug And Medical Device Litigation, Construction Site Accidents, Nursing Home Abuse, Medical Negligence, Qui Tam/Whistleblower Actions And Consumer Fraud Cases. A Nationwide Law Firm Representing Injured Victims Throughout The U.S., Alonso Krangle LLP Is Headquartered In Long Island, New York, With Offices In New York City, And New Jersey. To Discuss Filing A Power Morcellator Lawsuit, Please Contact Alonso Krangle LLP At 1-800-403-6191 Or Visit Our website, fightforvictims.com.
For More Information About Alonso Krangle LLP Or To Join The Fight And Be A Part Of Our Team, Please Contact Us At 1-800-403-6191 Or Visit Our Website, http://www.fightforvictims.com.