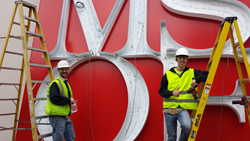 We are very excited to be chosen by MSOE for their new signage.
Milwaukee, WI (PRWEB) December 02, 2014
Custom sign builder Sign Effectz, Inc. announced the kickoff of a major new sign building project with the Milwaukee School of Engineering (MSOE). MSOE chose Sign Effectz, Inc. for its ability to collaborate on design options, value engineer cost effective solutions and fabricate and install custom electronic signs on budget.
For universities with metropolitan campuses, a tried and true way to add student housing is to purchase and convert hotels into residence halls. That's what MSOE did recently and Sign Effectz, Inc. is delighted to participate as Project Managers, Fabricators and Installers of new signs on the building as well as other university buildings on campus.
According to Adam Brown, Sign Effectz, Inc. President, "We are very excited to be chosen by MSOE for their new signage, we know how important it is for the university to make a bold statement. The new signs throughout their downtown campus will give them the local visibility they are looking for."
Reaching New Heights
The hotel turned student apartments represents one of the highest sign placements for MSOE's logo. The top of the new sign on the tower is 160 feet above the street on the 13th floor of the building.
The building originally was slated to be an extended-stay hotel, but the project went bankrupt while it was under construction in 2008. Thanks to a generous donation, MSOE acquired the building in October 2013 and completed the first phase of construction in time for the 2014-15 academic year.
The recession played a large role in stalling the development of the hotel. This created an opportunity for the property to be developed into student apartments. Each floor was different: some were nearly complete, while work hadn't started on others. After 10 months, MSOE received an occupancy permit.
With the addition of the MSOE Tower Apartments, MSOE's campus footprint has grown in downtown Milwaukee. The system of signs is part the university's effort to brand its campus.
The new sign on the tower has the following features:

The red MSOE cabinet is 16' x 16' x 16" deep fabricated aluminum cabinet w/ SignComp bleed tensioning frame. It is internally illuminated w/ 250' of Osram/Sylvania 6500K 24v Single Sided Box LED's.
The internally illuminated letters are 13'-3" tall x 5" deep welded fabricated aluminum w/ white polycarbonate faces mounted flush to cabinet flexface to internal framing on backside of flexface.
The "University" cabinet is 3'-4" tall x 16' wide x 16" deep fabricated aluminum cabinet w/ routed aluminum faces, white polycarbonate back-up at copy w/ ¾" thick clear acrylic pushed-thru. It is internally illuminated w/ 32' of Osram/Sylvania 6500K 24v Single Sided Box LED's.
Working Smarter, Not Harder
To reduce potential servicing costs the power supplies are located inside the building. This will give MSOE's maintenance crews the easy access they need to keep all of the sign's electrical components in working condition.
Because the power supplies needed to be located approximately 50' away from the sign inside the building approximately 2000' of 10 gauge secondary wiring was used to connect the power supplies to the secondary hook-up box located behind the sign. The power supplies were only loaded to about 75% of their capacity.
Sign Effectz, Inc. collaborated with the following on this project:

Milwaukee School Of Engineering
Uihlein/Wilson Architects
Hunzinger Construction (general contractor)
Uihlein Electric
Ideal Crane Milwaukee
About Sign Effectz, Inc.: A custom sign manufacturer that blends creativity with technology to provide customers with visually effective and physically durable signage. With experience in all types of signs, anything is possible at Sign Effectz, Inc.