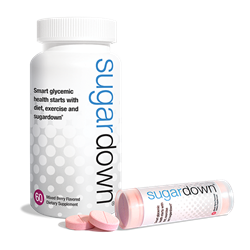 The manufacturers of sugardown® offer these 10 tips to help maintain healthy blood sugar levels at Thanksgiving.
Chestertown, Maryland (PRWEB) November 24, 2014
sugardown® today announced its annual tips for healthy eating for Thanksgiving and the upcoming holiday season.
The holidays can be challenging when it comes to eating healthy, but with a little creativity, it can be done. The manufacturers of sugardown® offer these 10 tips to help maintain healthy blood sugar levels at Thanksgiving.
1. Start your day with a healthy breakfast, rather than starve yourself in anticipation of a big dinner.
2. Choose healthy appetizers. Deviled eggs, grilled asparagus wrapped with ham, assorted nuts, and hummus with celery stalks are all good choices.
3. Choose healthy substitutes. Make mock mashed potatoes using steamed cauliflower instead of potatoes. Mash with cream cheese, cheddar cheese, roasted garlic, and fresh herbs.
4. Make bread-free stuffing. Substitute chopped vegetables like parsnips, mushrooms, and carrots for croutons, along with onions and garlic.
5. Skip the canned cranberries. Make your own cranberry relish using fresh or frozen cranberries, sugar substitute, and grated orange zest.
6. Enjoy the white meat of the turkey, but leave behind the dark meat and skin.
7. Instead of pie, have a small portion of dark chocolate. It is one of the best sources of antioxidants. Antioxidants found in dark chocolate have been shown to have a beneficial effect on cholesterol levels and insulin.
8. Take a walk after dinner. Exercise helps to increase insulin sensitivity. This means the cells are better able to use any available insulin, a hormone that helps the body use sugar for energy. Exercise also helps cells to take up sugar and use it for energy, whether or not insulin is available, so there is less sugar in the blood.
9. Resist the temptation to overeat. Before your meal, drink two glasses of water or a small glass of tomato juice. This can help you feel fuller faster.
10. Take sugardown® up to 20 minutes prior to your meal to help maintain healthy blood sugar levels.
The main ingredient in sugardown® is made from naturally occurring plant-based mannans (galactomannans) that when combined with a healthy lifestyle, including diet and exercise, have the ability to regulate digestive enzymes which in turn promotes healthy digestion, optimal sugar absorption and supports healthy glucose levels throughout the day.
sugardown® is available in a bottle of 60 tablets or a convenient 10-tablet tube. For more information, visit sugardown® on Facebook. To order, visit http://www.sugardown.com.