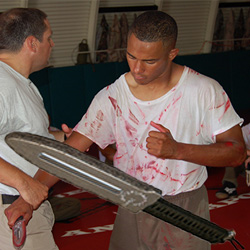 "No Lie Blades training and marking training knives are top notch." says world renowned law enforcement educator Dave Smith
Virginia Beach, VA (PRWEB) November 25, 2014
This training knife gets the practitioner as close to an actual knife encounter as one can with out the real danger of getting cut. These knives also give the ability to better ones skills every single time one trains because injured areas are immediately seen, allowing the student to instantly adjust tactical movements.
The No Lie training blades are just what they their name implies, "No Lie". These training knives are used heavily by the armed forces in both military, law enforcement, Israeli martial arts and self defense classes. The training knives provide so much crucial and immediate information that any person, team or organization who is serious about bettering their skills cannot deny the need for such a tool.
"No Lie Blades training and marking training knives are top notch." says world renowned law enforcement educator Dave Smith. He states, "There are few better trainers worldwide than Hank Hayes / No Lie Blades when it comes to getting results in hands on edged weapons / combat tactics." When we asked Mr. Hayes how he attained these skills he said, "The marking training knife did all the work in letting us know exactly where our weak and strong areas were. The tactical system was literally developed from the feedback the training knife provided us. It's almost idiot proof" He says.
When Black Belt magazine saw the training knife in action, they immediately thought it would make a great martial arts gift for anybody serious about growing their skills as a martial, combat or protection artist.
From just a rough drawing on a napkin, Hank Hayes has now built a company that "has saved thousands of US lives," say Sgt Mjr. Hines of the United States Marines. No Lie Blades has successfully trained over 11,400 armed forces personally to date and has other tactical training inventions being brought to market.
Aspiring martial artists, law enforcement, military and corrections professionals benefit greatly from a training instrument that helps them instantaneously evaluate their abilities without the worry of getting stabbed or stabbing/cutting their training partner.
When looking for the perfect martial arts gifts for your loved one keep the No Lie Blade training knife and system at the top of the list as the perfect holiday gift for anyone serious about growing their knife combative skill set.
In this video see what top national instructor Scott Bolan has to say about his experience with tactical knife training and using the No Lie Blades tools. This Holiday, No Lie Blades is offering a 30% holiday discount on anything purchased using this code (BBM1) at checkout. Go to http://www.trainingknives.net/HLDY14 to get all the details.