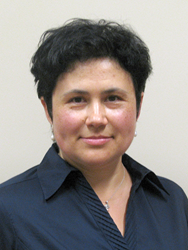 Abington, PA (PRWEB) November 24, 2014
Abington Health is pleased to announce that Nataliya Ternopolska, MD has joined The Neurology Group and has been named associate medical director of Abington Health's Multiple Sclerosis Center.
A graduate of Vinnica Medical University in Ukraine, Ternopolska completed her residency in Neurology at Albert Einstein Medical Center in Philadelphia and completed a fellowship in Multiple Sclerosis at the Judith Jaffe Multiple Sclerosis Center at Weill Cornell Medical College. Ternopolska is board certified in Psychiatry and Neurology. Currently she practices in Blue Bell, Flourtown, Collegeville and Warminster, diagnosing and devising treatment plans for patients with general neurologic problems.
Ternopolska's clinical interests include Multiple Sclerosis and other demyelinating and inflammatory disorders of the central nervous system. Ternopolska has been a member of the American Academy of Neurology since 2010 and has presented at numerous national conferences.
For more information, visit our website, http://www.abingtonhealth.org/ah-physicians or call 610-279-7443.
About Abington Health
Abington Health is the umbrella organization that encompasses its flagship hospital, Abington Memorial Hospital, in Abington and Lansdale Hospital in Hatfield Township. Abington Health entities also include convenient outpatient facilities, Abington Health Center – Blue Bell, Abington Health Center – Lower Gwynedd, Abington Health Center – Montgomeryville in North Wales, Abington Health Center – Schilling in Willow Grove, and Abington Health Center – Warminster in Bucks County. Together, these facilities serve more than 39,000 inpatients, 134,000 emergency patients and over 653,000 outpatient visits annually.
More than 1,400 physicians are on staff at both Abington Memorial Hospital and Lansdale Hospital. Additionally, Abington Health Physicians is an employed network of primary care physicians and specialists. Abington Health has more than 6,000 employees, making it one of the largest employers in Montgomery County.