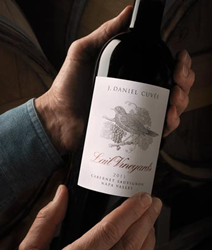 I'm flattered, humbled and extraordinarily proud of this superior honor.--Robin Lail
Napa Valley, California (PRWEB) November 24, 2014
Words like "absolutely perfect" are as rare as valley rain in August when it comes to Robert Parker, lauded critic of The Wine Advocate and guru of the wine tasting world. So powerful are his reviews that wineries have quadrupled their sales price in response. In today's frenzied market of hyper-proliferated wine labels, often consumers cling to ratings, basing their purchasing decisions solely based on Parker's validation.
Parker's 100 point review of the 2012 Cabernet Sauvignon J. Daniel Cuvee, aged 20 months in 75% new French oak and representing 100% Cabernet Sauvignon from three vineyard sources: Calistoga Oakville and Howell Mountain was about perfection. Parker states: Robin Lail and winemaker Phillippe Melka hit pay dirt with a wine that has an inky purple color, an almost amazing bouquet....sweet truffle-infused earth, graphite, forest floor, black currant and black cherry notes are followed by a full-bodied wine with a hint of mocha and licorice. Superb purity, an incremental yet full-bodied mouthfeel and an extravagant layered texture and finish make for the finest wine Robin Lail has produced to date."
Proprietor Robin Lail-- whose family can be traced back five generations, when her great-granduncle Gustav Niebaum founded the iconic Inglenook in 1879-- was born with wine in her blood and was absolutely determined to resurrect the family business 19 years ago when she launched Lail Vineyards in her fifth decade. Ironically, at the same age that her father, John Daniel, Jr. (namesake of the eponymous wine) retired.
Robin states: "I'm flattered, humbled and extraordinarily proud of this superior honor. This accolade really does feel like after the many years of determination, perseverance and hard work, my father is smiling down at me."
In keeping with the understated elegance that the Lail family brings to the wine industry, pricing will remain unchanged since the market price was set in March, 2014. Release is scheduled for June of 2015.
Lail Vineyards currently produces five labels with winemaker Philippe Melka: two Blueprints, Georgia, J. Daniel and Mole Hill. Lail Vineyards is located on Howell Mountain in the Napa Valley. For more information please call 707-968-9900, or go to http://www.lailvineyards.com.
#########