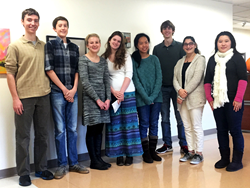 Lexington, MA (PRWEB) December 02, 2014
Lexington Christian Academy students were selected to participate in the Northeast Massachusetts District Senior Music Festival. After auditions of over 1,000 students from more than 90 public and private schools held in November, 441 students from grades nine through twelve were selected to participate in this prestigious Massachusetts Music Educators Association event.
The program is offered by the M.M.E.A. as an enrichment opportunity providing a musical experience to talented young people. The students were selected to perform in the Senior District Concert Band, Orchestra, Chorus and Jazz Band. They will rehearse with guest conductors and then perform in a concert to be held at Lowell High School in Lowell, MA on Saturday, January 10, 2015.
Representing Lexington Christian Academy in the concert will be:
Ruben Walter, junior, voice
Ana Bulger, senior, voice
Harris Desrosier, senior, voice
Emma Bergstrom, junior, voice
Alex Minasian, junior, voice
Michelle Zhou, junior, voice
Stella Wang, senior, flute
Nick Turgiss, senior, baritone saxophone