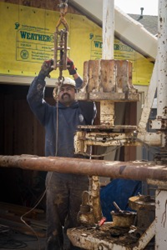 Now with its geothermal heating and air conditioning systems, Cold Craft is doing its part to reduce the carbon footprint and homeowners' utility bills at the same time.
Santa Rosa, CA (PRWEB) November 26, 2014
Cold Craft, Inc. is thrilled to announce its latest achievement— the installation of a cutting-edge geothermal heating and cooling system for a net zero house built in Campbell, CA. The go-to company for geothermal installation in the San Francisco Bay area, Cold Craft offers customers the knowledge and expertise in non-carbon, low-noise and low-energy heating and cooling solutions.
Geothermal technology is one of the latest advancements used to promote energy efficiency in residential housing and commercial buildings. The geothermal system harnesses the earth's steady temperatures by using a water sourced heat pump attached to underground ground geothermal loops. When in heating mode the system moves heat from the ground and the heat is transferred through a ground sourced heat pump and used to warm the home. When in cooling mode it does the reverse and takes the heat from the home and moves it deep into the ground.
"The drilling is what I find to be the most remarkable aspect of geothermal," commented Cold Craft's CEO, Susan Nichol. "The soil serves as an excellent conductor of temperature—both for heating and cooling homes. It's really an impressive process."
Most any structure—no matter the location—is a good candidate for geothermal heating and cooling. An environment-savvy consumer with a mission to 'go green', the owner of the net zero house located just outside of San Jose, CA in Silicon Valley had the geothermal unit installed to reduce the amount of energy wasted on heating and cooling the space.
Cold Craft's President and Founder, Kent Penning, described the project, "The homeowner is going all out; he's focused on making his home to be as green as possible. It's not only an honorable and forward-thinking initiative; it's really incredible what he's been able to accomplish with the help of new technologies like geothermal heating and air conditioning."
In addition to installing a geothermal system, the owner is working towards the net zero infrastructure by implementing solar electric power and laying down reclaimed lumber flooring to improve insulation.
Cold Craft is renowned for taking on challenging projects that focus on reducing customers' energy costs, as well as providing property owners and managers of multiple unit dwellings (e.g. apartment complexes) with the tools and resources to properly maintain the heating, air conditioning, ventilation, and replacement aspects of their system.
Now with its geothermal heating and air conditioning systems, Cold Craft is doing its part to reduce the carbon footprint and homeowners' utility bills at the same time. The ground-based heating system uses a free, renewable energy source that saves owners up to 70% on their heating, cooling, and hot water bills. Furthermore, users can receive a 30% Federal tax credit on geothermal installations.
For more information about Cold Craft's geothermal installation systems, or any of its other heating and cooling solutions, please visit ColdCraft.com, or contact Susan Nichol to address any additional inquiries.
About Cold Craft, Inc.
Cold Craft, Inc. opened for business in 1991 serving the San Francisco bay area in heating, air conditioning and refrigeration for both commercial and residential aspects of the trade. Although Cold Craft can complete almost any installation or repair, the company thrives on energy efficient ideas such as geothermal or geothermal using a swimming pool instead of drilling. The company has a continuous improvement program that includes incentives for education such as being NATE certified; this is why Cold Craft was awarded the Circle of Excellence from NATE, the gold standard in HVAC. The firm also has been Diamond Certified for 13 years. The employees also pride themselves on offering new technology, renewable and energy efficient solutions. Cold Craft's goal is to continue to grow in the HVAC R industry in the bay area and hire additional experienced technicians and installers. Learn more at http://www.coldcraft.com, or follow Cold Craft, Inc. on Twitter @suzi_coldcraft.