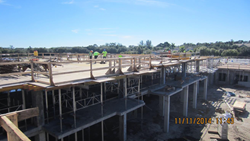 Boca Raton, FL (PRWEB) November 21, 2014
With a rare combination of professional and lay leadership, Sinai Residences of Boca Raton, a resort-style, state-of-the art Continuing Care Retirement Community (CCRC) now under construction on the campus of the Jewish Federation of South Palm Beach County, achieved financing of $214 million in May, 2014. Sinai Residences will host over 500 residents in 237 independent living apartments, 48 memory care units and 60 skilled nursing suites.
"Raising this level of capital is always a challenge, but the remarkable 96% pre-sales achieved by Sinai Residences was responsible for the unprecedented rapid sale of $76 million in bonds to retail investors, with the balance sold to institutional investors," said Melvyn Lowell, Chief Operating Officer for the Federation.
"The market has responded favorably to the attractive design of the facility and the extraordinary leadership of the Sinai Residences team," said Matthew C. Levin, President and CEO of the Federation. "Under development since 2008, Sinai Residences has been spearheaded by a successful combination of highly experienced, committed lay and professional Federation leadership. Melvyn Lowell and Wesley Finch have been the driving force from the outset, along with the Sinai Residences management team."
Finch serves in several instrumental Federation leadership capacities including Chair of the Board of Managers of Federation CCRC Development, LLC, the Federation subsidiary developing Sinai Residences. Founder and Chairman of The Finch Group, he has been involved in over $2 billion of primarily real estate-oriented ventures, ranging from government-assisted housing to high end condominiums.
Sinai Residences is now 25% completed, with its opening expected prior to the end of 2015. For more information about Sinai Residences of Boca Raton, visit http://www.sinairesidences.org or contact Amy Linder at 561-852-3338 or amyl@sinairesidences.com.