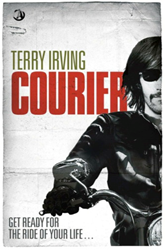 An exciting and gritty, if uneven, thriller. -- Kirkus Reviews
(PRWEB) November 25, 2014
Before Twitter and Facebook, the fastest way to get a story on the news was on a BMW R50/2 motorbike. It was also the fastest way to get killed.
It's 1972. The Watergate scandal has Washington DC on edge. Rick Putnam, a Vietnam veteran and courier for one of the capital's leading television stations, is trying to get his life back together after his nightmarish ordeal in the war. But when Rick picks up film from a news crew interviewing a government worker with a hot story, his life begins to unravel as everyone involved in the story dies within hours of the interview and Rick realizes he is the next target. Courier is a political conspiracy thriller as exciting as Three Days of the Condor, with a lead as cool as Easy Rider, all set in Nixon-era Washington DC.
"An action-packed tale of murder and political intrigue set in the politically turbulent 1970s.... Irving portrays [courier Rick Putnam] as a classic pulp-fiction hero: a chiseled, chain-smoking ex-soldier who's always ready with snappy quips. ... Irving's story is relentlessly paced, punctuated by bursts of action and violence, and driven by artfully unfolding suspense.... An exciting and gritty, if uneven, thriller." -- Kirkus Reviews.
Terry Irving is an American four-time Emmy award-winning writer and producer. He has won three Peabody Awards, three DuPont Awards and has been a producer, editor or writer with ABC, CNN, Fox and MSNBC. He was in Washington DC in 1973 for a few weeks until deciding on a career where he ended up riding a classic BMW R50/2 for ABC News during Watergate. Carrying that news film was the beginning of a 40-year long career that has included producing Emmy Award-winning television news, writing everything from magazine articles to standup comedy and developing many of the earliest forms of online media.
http://www.TerryIrving.com | http://www.Facebook.com/TerryIrving | @TerryIrving
To interview Terry Irving or to request a review copy, please contact Allen Media Strategies' Erika Schaefer at erika(at)allenmediastrategies(dot)com or call 703-589-8960.