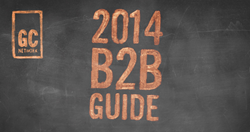 "The GCN B2B Guide is an amazing benefit for our members, and a fantastic resource for the buyers of gift cards or services within the B2B gift card industry." -Martha Weaver, Gift Card Network Director
Vancouver, WA (PRWEB) November 21, 2014
The Gift Card Network released its digital and physical versions of the third, 2014 edition of the GCN B2B Guide, focused on Sustainability in B2B, featuring Whole Foods Market. A resource for buyers and sellers in the B2B gift card industry, along with vital information for gift card buyers about what the cards are redeemed for and what type of products are available.
The B2B guide serves as a promotional benefit for Gift Card Network members to feature their products and services and is a convenient guide for those companies purchasing those services including contact information.
The Guide also features the following articles written by GCN Members:
Editorial featuring Whole Foods Market: Setting a Standard for Sustainability in B2B
The Rise of the Gift Card Aggregators - Powerhouse Brands
Why are Gift Cards relevant for Employee Recognition and Wellness Solutions? - Hallmark Business Connections
Revolutionizing Gift Card B2B Discounts - Kiind
The Omnichannel Gift Card Partner for Canada's Largest Restaurant Chain - Givex
Utilizing Gift Card Resellers is Easy - GC Incentives
Redefining the B2B Middle Man - BuyaTab
Paper, Plastic and Digital - National Gift Card
The Gift Card Network thanks its members for their contributions and inspiration to make this B2B guide possible. A special thanks to Whole Foods Market and sponsors Arjowiggins (paper), PBM Graphics (printing), and Powerhouse Brands (Design). Guide content coordination was managed by Media Partner Powerhouse Brands.
About the Gift Card Network:
The Gift Card Network is a the first gift card-specific marketing and collaboration platform. The network focuses on the identification of vital issues in the gift card industry and empowering its members to address these issues using connection, collaboration, and creativity. Members include companies that focus on the gift card industry. Find Everything Gift Card at thegiftcardnetwork.com.