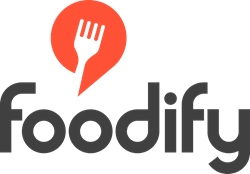 "Foodify started as a way to streamline food ordering with all the features we wished the other places had, but it's grown into a much more valuable tool for customers." -Hunter Stokes, CEO
(PRWEB) December 18, 2014
DC metro eaters can get a free meal from the new online ordering service on the city dining scene.
Foodify.com helps groups order delivery meals from local restaurants on an easy, flexible platform. The prices are the same as ordering directly from the restaurant, but Foodify users earn rewards points for ordering on the site. They also get access to exclusive discounts, including 3 free meal options in DC:

Chicago-Style Pizza- A free slice of Alberto's Pizza's signature thin or deep-dish specialty pizza with every order.
BBQ Box Lunch- A free BBQ specialty sandwich, side dish, warm cookie and a water with every order from Potomac Gourmet BBQ.
Gourmet Lunch Dish- Free meal from the upscale Entree Metropolitan Catering with every order.
Bonus- 12 free cookies with a Subway platter order for 10 or more.
Those are just a few of the discounts on Foodify in the DC metro area. The additional rewards points can be redeemed for gift cards, discounts, charitable donations and more.
"A lot of people already order meals for meetings at work," said Hunter Stokes, CEO of Foodify. "Placing those orders through Foodify just makes it cheaper for the company, and easier for the orderer— who also gets to keep the rewards. Foodify started as a way to streamline food ordering with all the features we wished the other places had, but it's grown into a much more valuable tool for customers."
In addition to the reward benefits, Foodify also helps organize orders more efficiently: it can handle multiple billing options, email custom menus to the group so everyone can choose their own meal, and even remember favorite orders.
Foodify also offers monthly and weekly flash deals.