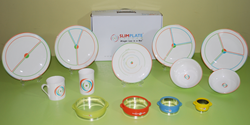 Why not let the fans suggest how much they should pay on a Black Friday?
Rock Hill, SC (PRWEB) November 24, 2014
SlimPlate System uses social media to reach fans for price recommendations for a special sale this Friday for the SlimPlate System. The SlimPlate System is a four-month, four-stage weight loss program centered around portion control that allows users to eat whatever they like.
SlimPlate System is using Twitter, Facebook, and email lists to ask the public what they think the SlimPlate System should cost for their special Black Friday sale.
"With the holidays right around the corner and New Year's Day to follow shortly after, it was clear now is the perfect time to discount our product," said a company official. "We want everyone to be able to try out the SlimPlate System, so we thought, 'Why not let the fans decide how much they should pay?'"
Getting fans to have a say in the reduced price is simple. People can go online to SlimPlate's Facebook or Twitter page and simply comment or tweet a price suggestion. After looking through the suggestions, the team will meet on Monday, November 24 to choose the price. Fans can then check social media pages the following day to see the final decision.
There are no hidden catches to the promotion, a company representative said, "We thought cutting the price will be a great way to introduce the SlimPlate System to anyone who's been eager to try it out, but just hasn't gotten around to it for one reason or another."
SlimPlate is a four-month, four-stage weight loss program that allows you to eat real food. Many weight loss programs require you to give up eating sugar, stop eating carbs, count calories, or eat special diet foods. With SlimPlate system, you can eat or drink whatever you would like; you just have to ensure that you're watching the portion sizes and avoiding artificial sweeteners.
Website: http://www.SlimPlateSystem.com