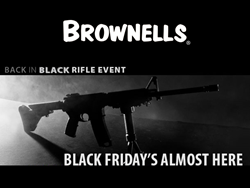 MONTEZUMA, Iowa (PRWEB) November 25, 2014
Brownells caps its "Back In Black Rifle Event" with Black Rifle Friday sales featuring even more incredible bargains on AR-15 parts and accessories, plus discounts on Glock® magazines, 1911 barrels, ammunition, reloading equipment, trail cameras and action cameras. Popular Emergency and Survival Gear products will also be marked down.
The sale starts at 12:01 AM on Black Friday, November 28. Customers can also enter the code J2Y at checkout to receive an additional 10% discount on all orders for any products totaling $150 or more.
To find all of the great deals, visit Brownells Black Rifle Friday specials page. The "Back in Black Rifle Event" and the Black Rifle Friday specials end at 11:59 PM, Monday, December 1st.
About Brownells
Founded in 1939, Brownells provides premier firearms parts, ammunition, gunsmithing tools, reloading components, survival gear and archery products to customers worldwide. Brownells is dedicated to unmatched Selection, unrivaled Service and absolute Satisfaction, as proven by their industry-exclusive 100-percent Forever Satisfaction Guarantee on every product sold. Additionally, their professional gun and archery techs are available to answer customer questions on nearly any firearm- or archery-related issue, free of charge. Consumers may order or get more information by calling 800-741-0015 or visiting http://www.brownells.com.