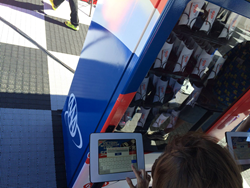 It's such a simple concept, but one that really elevates fan engagement to another level.
Alexandria, VA (PRWEB) November 25, 2014
Fans have been flocking to Victory Lane all season at NASCAR events, but not to join in the confetti-filled celebrations. They came to win something of their own at the AAA social powered vending machine, developed by Brightline Interactive in partnership with Aquarius Sports and Entertainment. Fans were tasked with answering three racing-related trivia questions and submitting their answers along with their email address via a tablet touchscreen. Each submission triggered the vending machine to dispense a random prize, leaving all participants winners. The vending machine held 200 prizes at capacity, ranging from AAA flags, lanyards, and tire pressure gauges to the grand prize of exclusive pit passes to the race.
The digital experiences have been a resounding success, distributing prizes to more than 2,000 participants at each of the four activations. "The vending machine showed fans something they had never seen before and really caused them to stop and take notice," said Matthew Haas, Director of Marketing and Advertising for AAA Mid-Atlantic. "It's such a simple concept, but one that really elevates fan engagement to another level. Rather than just distributing free gear to fans, the vending machine urged participation within a completely branded environment."
"NASCAR fans are some of the most passionate fans in sports," said Brightline CEO and CCO, Erik Muendel. "The social vending machine really tapped into their passion for racing by challenging them with racing trivia, but in doing so, rewarding them with fun prizes. It created a unique experience for them to share, and in the process, amplified AAA's brand exposure."
Brightline Interactive continues to reinvent the way consumers and fans use everyday objects by twisting creative technology in new ways. By incorporating the use of sensors, touchscreens and social media, these experiences enhance the quality of fan interaction with brands.
About Brightline Interactive
Brightline reimagines technology for measured consumer brand experiences through place-based interactivity. Brightline creates, builds, and produces fun digital experiences for global brands at major sporting events, entertainment venues and public location-based properties for automotive, CPG, technology, airlines, beverages and other products and services. Headquartered in Alexandria, VA, Brightline is committed to creating innovative, viral and scalable brand activations.