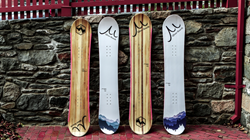 'In a market that has seen little outward innovation, we are pushing the boundaries of the sport with our first-of-its-kind design that is making snowboarding more accessible to new riders and more exciting for seasoned veterans.' - Nick Gilson, CEO
Winfield, P.A. (PRWEB) November 24, 2014
Gilson Boards, a designer and manufacturer of artisan-crafted snowboards featuring a patent-pending contoured base design, today announced the launch of its expanded e-commerce portal allowing customers to configure and order their boards online. Entering its first full snow season, Gilson Boards's e-commerce portal is the latest upgrade for the rapidly-growing start-up which recently expanded its manufacturing capabilities to meet growing demand. Riders looking to explore the next-generation Gilson Boards can find the online portal at: http://store.gilsonboards.com/.
Building artisan snowboards with locally-sourced materials in Winfield, Pennsylvania, Gilson Boards's proprietary designs feature a unique contoured base, the hallmark of which are the company's patent-pending Raised Central Region and Soft Edge Technology. These two design elements combine to give Gilson Boards an extremely versatile all-mountain ride by allowing the board to ride up on two skis in packed snow and sinking down into heavier powder when needed. The Gilson design reduces the chances of catching an edge, making for a more forgiving ride for novice snowboarders, while also delivering improved acceleration and maneuverability to experienced riders. Thanks to this contour base, Gilson Boards are also stronger than traditional snowboards, enabling a Gilson to be thinner with increased flexibility and more pop. For a deeper understanding of how the Gilson design elements are affecting this entirely new snowboarding experience, please watch the video examinations here: http://www.gilsonboards.com/technology.
"In a market that has seen little outward innovation in many years, we are pushing the boundaries of the sport with our first-of-its-kind design that is making snowboarding more accessible to new riders and more exciting for seasoned veterans," said Nick Gilson, CEO of Gilson Boards and inventor of the company's patent-pending designs. "As we enter our first full snow season this year, we are excited to launch our new e-commerce capabilities to help riders customize their boards."
Available for direct order through the new e-commerce portal, the Gilson Boards product line-up includes:

"As a company born out of innovation, we really love designing the right board for each of our customers and we want them to feel that same exhilaration too; that experience starts from the moment they conceptualize their perfect board on our new customer portal to the moment that they take their first run on a Gilson Board," said Gilson.
For more information about Gilson Boards, or to customize a new board, please visit: http://gilsonboards.com/.
About Gilson Boards
Headquartered in Winfield, Pennsylvania, Gilson Boards designs and manufactures artisan-crafted snowboards featuring its patent-pending design technology. Developed by former-teenage garage tinkerer Nick Gilson, the hallmarks of the Gilson design are its Raised Central Region and its Soft Edge Technology. With this variable surface area design, Gilson Boards are able to outperform traditional alternatives in terms of acceleration, maneuverability and all-mountain versatility, yielding boards that are equally suited to park and trail as they are to backcountry and deep powder. More information on Gilson Boards is available at http://gilsonboards.com/.
Media Contact:
Zach Heath, Engage Communications
Email: zach(at)engagecoms(dot)com
Phone: (401) 559-7350