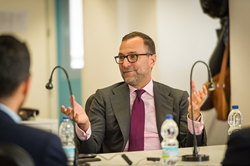 SEVILLE, SPAIN (PRWEB) November 21, 2014
U.S. Ambassador to Spain, James Costos, visited Glamping Hub's new offices in Seville, a meeting that was organized by AJE Sevilla members, for a round-table discussion on entrepreneurship in Spain.
AJE Sevilla is an organization that represents and helps promote young business owners in Spain. During the discussion, members of the three parties discussed possible solutions for creating a more receptive environment for young businesses to thrive.
Ambassador Costos, who believes that entrepreneurship is the United States' greatest export, offered advice and encouragement to the group.