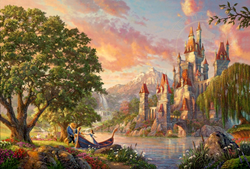 Disney films were very special to Thom and being able to incorporate these iconic characters into his artwork was a dream come true. - John Hasting, CEO
Morgan Hill, CA (PRWEB) November 24, 2014
The Thomas Kinkade Company announces the immediate availability of the limited edition art image entitled "Beauty and the Beast II." Recently discovered in the Thomas Kinkade Vault, this is the final Disney-themed painting on which Thom worked.
John Hasting, Thomas Kinkade Company Chief Executive Officer says, "We are thrilled to offer this piece from Thom's Vault. Disney films were very special to Thom and being able to incorporate these iconic characters into his artwork was a dream come true. Since Thom's passing, and through our collaboration with Disney, we have been able to continue sharing new Disney artwork from the Thomas Kinkade Studios, but releasing this last Disney painting done by Thom himself is truly special, both for us at the Company and especially for our collectors."
The image features favorite characters and the iconic castle from the classic Disney film, Beauty and the Beast. It is available in three sizes in limited release through authorized Thomas Kinkade Galleries.
The Thomas Kinkade Company has published the works of Thomas Kinkade and Thomas Kinkade Studios for over 25 years, during which Thom has become one of the most widely recognized and best selling artists in the world. His artwork is distributed through a network of authorized dealers and strategic relationships. The Thomas Kinkade Company and Thomas Kinkade Studios strive to carry on Thom's legacy, passion and his desire to bring joy into people's lives. For additional information on The Thomas Kinkade Company visit http://www.thomaskinkade.com.