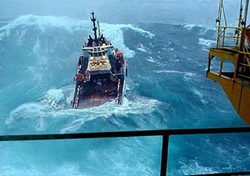 We are very proud of the freshness, purity, and high concentration of our American made product.
Boca Raton, FL (PRWEB) November 24, 2014
American Marine Ingredients (AMI) is proud to offer an Omega-3 supplement that does not feature a frequent companion found in many similar products: a fishy taste. 54°North Omega-3 with Vitamin D3 is 100% American made and is sourced directly from the company's fishermen in the Bering Sea.
"Because we harvest the fish ourselves, we are able to process it within just a few hours after it's caught," said Richard Draves, Vice President of Product Development for AMI. "We've trademarked the phrase, 'The value is in the freshness,' and that freshness ensures that you don't get a fishy taste.
54°North Omega-3 with Vitamin D3 is made from fresh Alaskan Pollock caught in the icy pure waters off the coast of Alaska. Each capsule packs more than 1,000mg of the key omega-3 nutrients, DHA and EPA. In addition, 54°North Omega-3 is completely traceable from ocean to bottle due to the highly efficient processes of AMI, the supplement's manufacturer.
"54° North Omega-3 with Vitamin D3 is one of the highest quality supplements on the market today," said Louis Lubitz, Sales and Marketing Manager for AMI. "We are very proud of the freshness, purity, and high concentration of our American made product."
Omega-3 fatty acids are critical for building and maintaining muscle, and studies have shown that they help athletes recover faster and train harder. Omega-3s offer a wide range of crucial health benefits to people, as research shows they contribute to good heart health, lowered elevated triglyceride levels, and reduced symptoms of rheumatoid arthritis.
"There are so many health benefits that come from Omega-3s," said Draves. "And when you buy 54°North, you're getting Omega-3s in an extremely pure form."
The U.S. Alaska Pollock fishery is one of the best and most sustainable fisheries in the world, a fact that has been independently verified by organizations including the Marine Stewardship Council and the Global Trust. Because it controls every step of the production process, AMI is able to ensure 54°North contains an 85 percent omega-3 concentrate, without the fishy taste associated with many of these types of products.
"We are very pleased that our 54°North supplement is now available through several online retailers, including Amazon.com," said John Cummings, President of AMI. "More and more people are learning that they have a new choice when it comes to Omega-3 supplements."
To learn more about 54°North Omega-3 with Vitamin D3, visit http://www.ami-ingredients.com.
To purchase 54°North Omega-3 with Vitamin D3, visit http://www.amazon.com/American-Marine-Ingredients-Degree-Omega/dp/B00M1VJU0W/ref=sr_1_2?s=hpc&ie=UTF8&qid=1414502726&sr=1-2