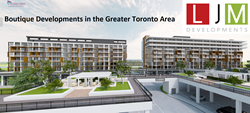 Niagara, Ontario (PRWEB) December 15, 2014
The Town of Grimsby's Waterview Condominiums development was such a success that, backed by popular demand, LJM Developments has decided to begin a second phase that will add 80 luxury lake-front condominium units with new layouts in Spring 2015. Phase II of the contemporary concrete structure will coincide with The Town of Grimsby's planned development project to revitalize the waterfront.
The Town of Grimsby's master plan for the waterfront will create a remarkable network of walking trails, nature trails and bicycle lanes that cradle the Waterview Condominiums in a unique natural activity envelope. The short-term phase focuses on access to the public beaches with a waterfront promenade, on-street parking and multi-use trails to access local roads and the beaches.
The mid-term phase by The Town of Grimsby will focus on extensions that will provide better access to a third public pebble beach at the terminus of Hunter Road in Grimsby. Further extension of the multi-use trail will link up to the future Fifty Point Conservation area access point at Kelson Avenue in Stoney Creek. The long term plan includes a picturesque waterfront trail, a nature trail section, further waterfront parking options, and even cycling lanes.
With such amenities literally wrapping around the Waterview Condominiums in Grimsby, owners will be placed right in the heart of one of the most exciting waterfront development projects in Ontario.
This is in addition to the state-of-the-art amenities that Phase I homeowners have come to recognize as best in class for condominium living in Grimsby and the Golden Horseshoe area. The Waterview Condominium development is a new innovative approach to community living by providing conveniences that mirror the comforts of a 'live-work residence' space that allows businesses to service the homeowners where they live. A grocery store, café, doctor's office, eatery, and massage therapist are either onsite or within walking distance, providing excellent service within arm's reach.
Mr. Liaquat Mian, CEO at LJM Developments, hailed the success of the first phase, stating "Residents in the GTA want a quality designed home that includes an integrated lifestyle with amenities close by and the splendid wonder of Canada's natural beauty as their backyard."
LJM Developments is also known for its chic designs, ground-breaking standard inclusions and condominium layouts that please the most discerning buyers. Individual units feature contemporary fixtures, full window picturesque views of Lake Ontario, and underground parking and storage. With Waterview's rooftop luxurious outdoor terrace which provides a private garden setting for yoga, relaxation and outdoor cooking, it's beachfront living at its best.
As the first phase sold more than half its units before a shovel hit the ground, prospective buyers are encouraged to plan on getting in on the ground floor as early as possible. More information on registration for Phase 2 can be found on the project website: http://waterviewcondominiums.ca/launching-phase-2/
About LJM Developments
LJM Developments is a recognized industry leader in residential and commercial real estate developments in Ontario, Canada. The company has developed highly-acclaimed signature projects in the residential and commercial sectors that are a perfect synergy of world class architectural design and cutting-edge construction quality. For more information, please visit the company website at http://www.ljmdevelopments.ca
If you would like more information about this topic or need to make further press inquiries, please contact LJM Developments at 289-245-1900 or e-mail: info(at)ljmdevelopments(dot)ca