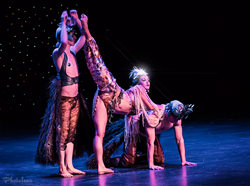 "Polished, Shiny, Teasing" -The Seattle Times
Seattle, WA (PRWEB) November 24, 2014
A new dance language has emerged in the Pacific Northwest: a theatrical blend of ballet, body, and communication with rich scripts and character development. For Lily Verlaine and Jasper McCann, it is the new era of burlesque, and no one highlights it in quite the same fashion as these two burlesque superstars. This holiday season, these two will embark upon the 9th installment of their crown jewel production, "Land of the Sweets: The Burlesque Nutcracker" in Seattle, WA from December 11-27 - tickets are on sale now and available at LandoftheSweets.com.
Verlaine and McCann have been creating large-scale, theatrical burlesque shows through their production company Verlaine & McCann Present, for almost ten years. Their productions are evening-length theatre experiences, with first-class costumes, original scripts, thoughtful comedic timing, thematic songs, and beautiful choreography. Verlaine, an internationally known burlesque star and trained ballet dancer, choreographs every production and her classical background is an important thread throughout every show.
"I want to import the traditions of classical dance into this new-world phenomenon of burlesque," said Verlaine. "Like in ballet, our dancers take on various roles and personalities during a show. We have the pleasure of working with a myriad of talented performers, and it is my job to bring the best out of each dancer and to honor their skills. I am creating work for the artists to interpret."
Verlaine and McCann Present and "Land of the Sweets: The Burlesque Nutcracker" were recently recognized by the Burlesque Hall of Fame when they were honored with an award for "Best Small Group" performance in June 2014 at the annual Las Vegas-held ceremony. Since its inception in 2006, the show has grown from eight cast members to a theatrical company of 24 cast, crew, and support staff. It has seen an 800% increase in ticket sales, and Verlaine, McCann, and their "corps du burlesque" are performing 33 shows in the month of December, compared to their initial four.
"Our original intent in creating this show was to give people a new, theatrical experience during the holidays," said co-producer Jasper McCann. "Land of the Sweets is a great example of our new dance language in burlesque; a variety of immensely talented characters working as an ensemble to create a detailed, entertaining story."
Verlaine and McCann don't see this new era of burlesque going away any time soon. On the contrary, they want to bring this dance language to an even broader audience, with their eyes set on performing off Broadway or in Las Vegas in the future.
Throughout the year, Seattleites and visitors alike can experience one of three Verlaine & McCann Present productions, including "Land of the Sweets: The Burlesque Nutcracker" during the holiday season, running December 11-27, 2014 in Seattle; "Through The Looking Glass: The Burlesque Alice in Wonderland" in the Spring; and their newest concoction, "Burlesco DiVino: Wine in Rome" in the fall.
For more information about Lily Verlaine, Jasper McCann, and Land of the Sweets, please visit http://www.landofthesweets.com/.
About Verlaine & McCann
Lily Verlaine and Jasper McCann met in 2005 and it was love at first sight. Their mutual obsession with musicals, bawdy women and vintage culture carried them beyond friendship and into a fruitful creative partnership, where their inexhaustible work ethic balances their lust for glamour. Now in their ninth year together, Verlaine & McCann are at the forefront of Seattle's burlesque resurgence, producing large-scale theatrical burlesque shows that continue to push the boundaries of the form while reaching an ever-growing audience. They are the creators of Land Of The Sweets: The Burlesque Nutcracker; Through The Looking Glass: The Burlesque Alice In Wonderland; and Burlesco DiVino: Wine in Rome, and have produced these trademark "Spectacles of Ecydysiastic Pageantry" throughout the Pacific Northwest.
Verlaine & McCann are proud to provide employment opportunities for dozens of dance, theatre, and music professionals, to perform for thousands of fans a year, and believe that burlesque is a place where art, entertainment, and social commentary don't have to be mutually exclusive.