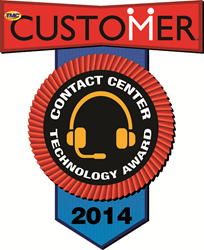 Telax Hosted Contact Center has been selected for demonstrating innovation, quality and unique features
Toronto, ON (PRWEB) November 25, 2014
Leading North American cloud-based contact center solution provider, Telax is a recent winner of TMC's 2014 CUSTOMER Contact Center Technology Award.
TMC is an integrated, global media enterprise assisting clients in the tech industry with print, in-person and online marketing. The company selected Telax based on the hosted contact center specialist's ability to:

Relieve clients of contact center hardware upgrade responsibilities by enabling them to successfully transition to a cloud-based solution
Customize contact center software based on the particular needs of its customers
Provide clients with a dedicated team of experts whose goal is to help them build effective customer relationships and generate that most value from their contact center
The Contact Center Technology Award is given to companies that have shown progressive, innovative use of technology to further the customer service industry. Telax has contributed to this sector by not only delivering advanced business intelligence and workflow optimization to organizations in need of contact center solutions, but providing its clients with deployments that are cohesive with existing programs.
"Congratulations to Telax for being granted a 2014 CUSTOMER Contact Center Technology Award. Telax Hosted Contact Center has been selected for demonstrating innovation, quality and unique features which have had a positive impact on the customer experience," said Rich Tehrani, CEO, TMC. "We're pleased to recognize this achievement."
There are three components of Telax's delivery model that distinguish it as a thought leader in the customer service technology space:

Whether a company uses SIP trunks, PBXs, unified communication systems, multiple CRM deployments or several other customer-facing tools. As opposed to obligating its clients to integrate their solutions with Telax's technology, Telax engineers its software to accommodate its clients' infrastructures.
Telax consistently provides organizations with robust business intelligence reports to inform them of how well customer service operations are satisfying their clients. Based on these conclusions, the hosted contact center expert deduces how its technology can better assist agents in improving satisfaction rates.
In addition to providing informative analytics tools and customized solutions, Telax supplies each of its clients with a team of experts to help transform their contact center into a strategic asset by identifying, developing and implementing winning strategies.
Telax's goal is to provide its clients with the means to improve customer service in every possible manner. As contact centers are the heart of every customer support endeavor, Telax's primary focus lies in developing these assets into strategic differentiators.
"Now more than ever, companies are realizing the value that their contact center adds to their business operations and its overall impact on their bottom line" said Telax President and Founder Mario Perez. "Winning the 2014 CUSTOMER Contact Center Technology Award verifies our success in helping businesses transform their contact centers into revenue generating assets through value-creating strategies, cutting-edge technology and industry-leading professional services."
About Telax
Telax Hosted Call Center provides the capabilities to create a world-class customer care and service desk operation. By leveraging cloud computing, Telax delivers an advanced contact center solution with more functionality than traditional hardware at a fraction of the cost. Telax clients get a customizable, easy-to-use solution that includes responsive, full-service support and no long-term contracts. The simplicity delivered by Telax Hosted Call Center enables clients like Best Buy, Johnson & Johnson, CI Investments, Health Canada and the GSA, to provide the best service to their customers, valuable business intelligence to their executives, and a user friendly solution for their agents. The result is a better customer experience today and a better organization tomorrow. And Everybody's Happy. ™
About TMC:
TMC is a global, integrated media company that supports clients' goals by building communities in print, online, and face to face. TMC publishes multiple magazines including Cloud Computing, M2M Evolution, Customer, and Internet Telephony. TMCnet is the leading source of news and articles for the communications and technology industries, and is read by as many as 1.5 million unique visitors monthly. TMC produces a variety of trade events, including ITEXPO, the world's leading business technology event, as well as industry events: Asterisk World; AstriCon; ChannelVision (CVx) Expo; Cloud4SMB Expo; Customer Experience (CX) Hot Trends Symposium; DevCon5 - HTML5 & Mobile App Developer Conference; LatinComm Conference and Expo; M2M Evolution Conference & Expo; Mobile Payment Conference; Software Telco Congress, StartupCamp; Super Wi-Fi & Shared Spectrum Summit; SIP Trunking-Unified Communications Seminars; Wearable Tech Conference & Expo; WebRTC Conference & Expo III; and more. Visit TMC Events for additional information