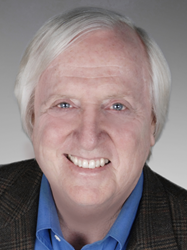 Customers want their experiences to be more than great...they want them special. The secret to customer service differentiation is amazement--the power of the unexpected extra.
(PRWEB) November 24, 2014
The holiday shopping season continues to get bigger and bigger. According to the National Retail Federation, the average holiday shopper will spend up to $804.42 and holiday sales in November and December are expected to reach $616.9 billion. Amidst this surge in consumer spending, customer service rightfully gets its time in the spotlight.
The retail landscape is more competitive than ever and international customer service expert Dr. Chip R. Bell asserts that businesses must harness "the power of extra" during this holiday season in order to retain customers. "Extra" is not about "more for less;" it is an attitude of generosity—extra joy, extra empathy, and extra energy.
According to Bell, both the corner shop that celebrates Small Business Saturday, and the big box retailer trying to survive the stampede on Black Friday, would be wise to step up on customer service spirit during this vital season.
The author of the upcoming book, "Sprinkles: Creating Awesome Experiences through Innovative Service," warns, "Neglect is more dangerous than strife; indifference is more costly than error." Though the holiday shopping craze may bring people in the doors, it won't keep them coming back. "Superior service providers never take customers for granted," Bell notes, "They remain ever vigil for ways to celebrate the joy of partnership and express sincere gratitude."
Bell says typical service just won't cut it anymore: "Customers want their experiences to be more than great...they want them special. The secret to customer service differentiation is amazement—the power of the unexpected extra." Below he shares four innovative strategies for taking customer service to the next level this holiday season:
1. "Sprinkle" all customer service:
What is the customer's service experience like if it is "sprinkled"? Pizza delivery boxes would have funny faces inside waiting to greet customers when the box is opened. Checkout clerks would shake hands, not just say hello.
2. Thank customers in innovative ways:
Handwrite a thank-you note to a key customer. Poll customers for advice on how to run the unit or organization. Make sure every person who comes through the door knows you are happy to see them and grateful for their patronage.
3. Proactively acknowledge and fix mistakes:
If something goes wrong, don't just let it slide. Treat customers with respect when things go wrong...not some cheap, generic atonement unmatched to the incident. Apologize for the disappointment. Tell the truth and show you care.
4. Be the best part of their day:
Life is harried: Make customer service calm and peaceful. Life can be lonely: Make each service a valued connection. Life can be shallow: Make sure all service encounters have resonance, enrichment, and depth.
The gift-giving season is not just an opportunity to revel in increased foot traffic and sales, it is an opportunity for businesses to differentiate and cultivate customer loyalty. Bell concludes, "Innovative customer service can ruin a customer's appetite for any competitor. The holidays are a perfect time to awe your customers. Don't let it go to waste."
Chip R. Bell is a senior partner with the Chip Bell Group and manages their office near Atlanta. Prior to starting CBG in the '80s, he was director of management and organization development for NCNB (now Bank of America). Bell holds graduate degrees from Vanderbilt University and the George Washington University. He was a highly decorated infantry unit commander in Vietnam with the elite 82nd Airborne. Bell is the author or co-author of several bestselling books including "The 9 ½ Principles of Innovative Service," "Wired and Dangerous," "Take Their Breath Away," "Magnetic Service," "Service Magic," "Customers as Partners" and "Managing Knock-Your-Socks-Off Service." He has appeared live on CNBC, CNN, ABC, Fox Business Network, Bloomberg TV and NPR, and his work has been featured in the Wall Street Journal, Fortune, Forbes, USAToday, Fast Company, Inc. Magazine, Entrepreneur Magazine and Businessweek. A renowned keynote speaker, Bell has served as consultant or trainer to such organizations as GE, Microsoft, Marriott, Universal Orlando, Ritz-Carlton Hotels, KeyBank, Harley-Davidson, Cadillac, USAA, Verizon Wireless, Lockheed-Martin, Allstate and Victoria's Secret. For more information on Bell's work, visit http://www.chipbell.com.