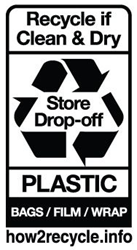 Redmond, WA (PRWEB) November 24, 2014
How2Recycle is an on-package recycling label program that gives clear, concise instructions to customers about how to recycle a package.
PAC Worldwide has been part of this program for a year now and has begun to put this label on branded shipping bags (flat poly and all poly bubble mailers) that they manufacture for their in-stock offerings and for their customers, such as http://www.MailersUSA.com.
A variety of bags and other films are recyclable at over 15,000 participating store drop-off locations, a fact that is sometimes unclear to consumers. The Store Drop-off Label, encourages the retail collection of these films. Consumers can visit How2Recycle and http://www.plasticfilmrecycling.org to find recycling locations.
"We're proud to offer a differentiation in the vast poly bag market. Our colored bags are unique in that they are generic non-branded mailers that anyone can use while still featuring the How2Recycle logo. From the small home business to the large retailer, we hope all will switch to trendy mailers that promote earth-friendliness," said Jae Atkinson, Marketing Specialist for MailersUSA.com.
About PAC Worldwide Corporation
PAC Worldwide, an industry leader and manufacturer of protective flexible packaging, has built their business up since 1975 based on outstanding service and quality products. This international company specializes in custom branded and stock mailers (bubble, flat poly, paperboard), industrial and retail bubble, security bags, folding cartons and automated bags. They also offer a full line of fulfillment services as well as automated packaging systems for high speed applications.
About MailersUSA.com
MailersUSA.com supplies wholesale-priced shipping & office supplies. They carry shipping products including Kraft Bubble Mailers, a variety of Poly Bubble Mailers, Rigid Paperboard or Photo/Document Mailers, Flat Poly Mailers, Clear Bubble (Bubbleout) Bags, Heavy Duty Packaging Tape, Tape Guns & Corrugate Shipping Boxes. They also supply wholesale security bags (deposit bags), tape, sticky notes, labels and other widely used office supplies
About How2Recycle
How2Recycle is a program of GreenBlue's Sustainable Packaging Coalition. The SPC's goal is to have How2Recycle appear on the majority of consumer goods packaging by 2016, creating a harmonized labeling system that effectively communicates the recyclability of a package. How2Recycle provides a consistent and concise recycling labeling system that is compliant with the Federal Trade Commission Green Guides.