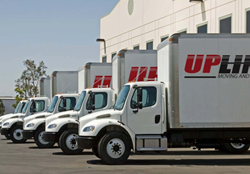 Moving can be an unexpected change, especially during this time of year. While relocations can be difficult, it is especially hard when you'd rather be with your loved ones. It's our job make the process as pleasant as possible
San Francisco, CA (PRWEB) November 26, 2014
With over 20 years of experience in local and long-distance moves, Upline Moving is the ultimate relocation specialist in helping individuals, families and commercial entities make the transition over the holiday season.
Understanding the hectic nature of the holidays, Upline Moving goes the extra mile in making sure every detail is explained and options offered to get clients moved in a thorough, efficient way. "Moving can be an unexpected change, especially during this time of year. While relocations can be difficult, it is especially hard when you'd rather be with your loved ones. It's our job make the process as pleasant as possible," says the CEO.
Ready and able to handle the influx of new residents to the San Francisco area, Upline is one of the top Bay Area movers providing a variety of services, which includes packing, storage, insurance, local and long-distance moves. From the first point of contact, every client is given a quote, a detailed explanation of the moving process and an assessment of their needs. "Moving doesn't have to be tedious; we try to make it simple and stress-free." says the CEO.
For those customers who are pressed for time, Upline Moving comes in, packs everything, schedules the shipment and leaves the client with nothing to worry about but connecting their utilities and being at the drop-off location when they arrive. This is a perfect solution for those individuals who have to move over the holidays and want peace of mind in the midst of it all. Whether moving in or out of town, holiday relocations are never easy. The associates at Upline offer enhanced resources to help clients enjoy the season, even when they have been unexpectedly uprooted. "It means a lot when a moving company understands the moving process enough to understand when a client is moving to a new area they don't know much about," says the Director of Marketing. "When we can give them tips on places to eat, or local stores that will help them get settled, our credibility as a company that cares grows. Our customers aren't just clients – they are family."
A leader in preserving the environment, Upline Moving utilizes recycled materials and products in their packing boxes and wraps to reduce their carbon footprint, with environmentally-friendly initiatives are the forefront of their operations. A multi-office enterprise, Upline Moving has locations in both San Francisco and Los Angeles to accommodate a high-demand market.
The site offers in-depth tips, advice and other information on packing, preparing for your move, storage tips and more on their blog. For a consultation on how Upline Moving can help with an individual, family or corporate move during this holiday season, contact an associate or visit the website here https://uplinemoving.com
About Upline Moving
Upline Moving has offices in San Francisco and the Los Angeles area, specializing in local and long-distance moves for residential and commercial entities.