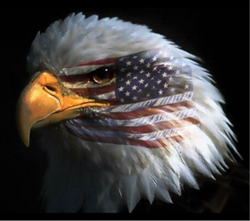 On the plains of hesitation lie the bleached bones of millions who when within the grasp of victory sat and waited and while waiting died. Author unknown
Sioux Falls, South Dakota (PRWEB) December 02, 2014
President Obama's recent decision to grant Amnesty (BreitBart, Nov. 21, 2014) is an affront to every Citizen and also to the millions who wish to become Legal Citizens through the proper process, according to the United Sovereignty Alliance.
Burton Hill, a registered Independent and founder of the United Sovereignty Alliance, Inc., a South Dakota registered non-profit, says it's time the citizens of the U.S. used the 10th Amendment to reset the priorities of the Federal Government to one "of the people, for the people and by the people."
"The Constitutional rights of every citizen is at stake with the Obama Amnesty," says Hill. "Never before in the history of our Federal Republic has the 10th Amendment ever been used by the States let alone the People, yet the time has come to set aside Politics for a short time and reaffirm the peoples' rights, which only the voters can do."
Burton Hill believes that Native Americans were here first, although it is believed that their Ancestors came to this land over the Bering Strait. However, Burton continues, "the founding fathers themselves or their Ancestors were immigrants, yet they took the time to ensure that future Immigrants follow a set of rules to become Citizens."
"Some believe the Constitution is a living document and can be changed or interpreted at will. Thus, at this time in our Federal Republic, even those who purport to follow the Constitution look the other way even in their own dealings," says Hill.
The United Sovereignty Alliance calls for a citizen's referendum concerning these issues.
About United Sovereignty Alliance
Our website contains several Amendments to the Constitution, including those from Mark Levin, as well as government reforms which we believe the Citizens should have a right to vote on.
"The leadership of both the Democrats and the Republicans as well as some special interest groups will cringe at the list of proposed Amendments and government reforms listed on our home page, and will do everything they can to stop the people from this Agenda as it is a direct challenge to their power," concludes Hill.