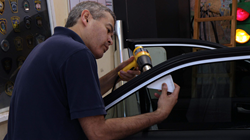 Powered by the world's highest performing non-reflective window tints, autobahn is also the market leader in multi-layered nano-ceramics
Atlanta, Georgia (PRWEB) November 25, 2014
Benchmark Soundworks owner Gary Stackpole, an automotive industry insider of over 30 years has recently enhanced their automotive tinting program with autobahn; a premium vehicle enhancement program in the United States. Autobahn is an experiential automotive program that fills a much needed void in the automotive window tint industry, embracing appreciation for quality, convenience and value. The autobahn network of very selective, hand-picked, authorized dealers includes the best vehicle enhancement personnel available in the auto industry. These authorized dealers offer a keen attention to detail that will ensure each car welcomed into their store is treated like one of their own. Of all the authorized dealers within the network, Benchmark Soundworks was one of the first to open its doors waving the autobahn flag.
The autobahn experience is all inclusive from the minute the customer walks into a store. Each customer is greeted by an employee, once the needs of the customer are understood they are taken through a live heat demonstration and introduced to the best products in the industry that suits their specific needs. The customer is then invited to wait in the dedicated and comfortable waiting area that by policy, each autobahn location is required to have. There, customers will find anything from magazines, or TV, to cookies, muffins, and coffee. Once the customer's vehicle is complete, they will be provided with their receipt and transferable "No-Hassle" limited lifetime warranty. Autobahn has made a point to make sure its network of authorized dealers and locations are comfortable, customer service and quality driven stores that offer only the upper echelon of automotive window tints (powered by Hüper Optik). Visit the Benchmark Soundworks autobahn store as they are sure to offer a live heat demonstration. Once you "Feel the Difference" between autobahn tints versus other tints, there is no turning back.
Autobahn is the only network in the industry that has hand selected vehicle enhancement personnel providing consumers a pleasant non-traditional experience for them and their cars. Powered by Hüper Optik's world's highest performing non-reflective window tints, autobahn is also the market leader in multi-layered nano-ceramic, high performance hybrids and traditional film technologies. Providing only above grade quality and service for the automotive industry, autobahn Performance Films™ are distributed through a strategic network of authorized dealers in the United States and now Canada. For more information or to become a dealer visit http://autobahnwindowfilms.com or contact info(at)autobahnwindowfilms.com.