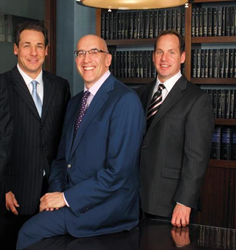 According to the U.S. News-Best Lawyers, the 2015 "Best Law Firms" rankings are based on a rigorous evaluation process that includes the collection of client and lawyer evaluations
N Y, New York (PRWEB) November 24, 2014
Gersowitz Libo & Korek, P.C., a leading national law firm, announced today that it has received national Tier recognition in the 2015 Edition of U.S. News-Best Lawyers list of "Best Law Firms." Achieving a tiered ranking signals a unique combination of quality law practice and breadth of legal expertise.
"We are very proud to receive this honor and especially grateful to our clients whose continued support of our firm has made this important honor and ranking possible," said Jeff S. Korek, senior partner at Gersowitz Libo & Korek, P.C. According to the U.S. News-Best Lawyers, the 2015 Best Law Firms rankings are based on a rigorous evaluation process that includes the collection of client and lawyer evaluations, peer review from leading attorneys in their field, and review of additional information provided by law firms as part of the formal submission process. More specifically, these evaluations and surveys incorporate 4.9 million evaluations of 50,834 individual leading lawyers.
"U.S. News has more than two decades of experience in providing the public with the most accurate and in-depth rankings of a wide range of institutions, including our Best Law Schools rankings," says Tim Smart, Executive Editor of U.S. News & World Report. "Law Firms are an integral part of our rankings and a natural accompaniment to the law school rankings."
About Gersowitz Libo & Korek, P.C.
The New York City accident lawyers at Gersowitz Libo & Korek P.C. have devoted the past 25 years to helping injured victims get the maximum compensation they deserve for the injuries they have suffered. These lawyers have the knowledge, experience and resources to successfully pursue all types of personal injury, construction, and medical negligence cases.
Serving the residents of New York and New Jersey, the accident lawyers at Gersowitz Libo & Korek, P.C. are committed to the relentless pursuit of victims and their loved ones' rights. They urge anyone in need of assistance who has suffered a serious injury to immediately contact them.
Contact:
Contact:
Jeff S. Korek
Gersowitz Libo & Korek, P.C.
111 Broadway, 12th Floor
New York, NY 10006
Ph: (212) 385-4410