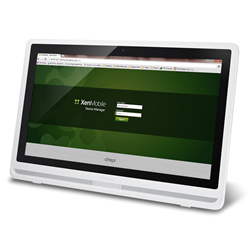 The SD-A235 raises the bar of managed smart client performance and flexibility to provide an all-in-one, secured locked-down desktop solution.
Brea, CA (PRWEB) November 24, 2014
ViewSonic Corp., a leading global provider of computing visual solution products, announces that its SD-A235 Citrix® XenMobile® Smart Display is now available to enhance virtual desktop environments. With its powerful NVIDIA Tegra® 4 processor, professional grade 23-inch LED IPS panel and 10-point touch screen features, the ViewSonic® SD-A235 Smart Display is the complete reliable package for educational settings, health care facilities, and businesses looking for alternative desktop solutions.
The SD-A235 raises the bar of managed smart client performance and flexibility to provide an all-in-one, secured locked-down desktop solution. ViewSonic's flagship display features:

Full HD 1080p resolution and 10-point capacitive touch for superior intuitive user interaction
Preinstalled with the Citrix Worx Home app for easy enrollment and management under the Citrix XenMobile environment
HDMI (input/output) and USB connectivity, SD reader, RJ-45, WiFi, Bluetooth, and integrated 2MP webcam and speakers for complete multimedia capabilities
The ergonomic screen offers adjustable height and tilt features and the VESA mount capabilities offer more flexibility on carts and kiosks to support a wide-range of vertical applications
"With businesses, educational institutions, and health care facilities all looking for ways to reduce costs, but not wanting to sacrifice productivity, ViewSonic's SD-A235 can help increase efficiency in a VDI setting," said Erik Willey, product marketing director for system and cloud products at ViewSonic Corp. "VDI customers are looking for security and control to leverage mobile and cloud-based investments, and the SD-A235 delivers this in a fully manageable and secured environment. As a locked down solution with tight Citrix XenMobile integration for the desktop, the SD-A235 Smart Display Client can help take security, performance and productivity to a whole new level."
ViewSonic's new VSD231 LED Smart Display is also shipping now. The VSD231 features the same 23-inch IPS, LED smart display with Full HD 1080p resolution, and 10-point projected capacitive touch screen technology as the SD-A235, without the XenMobile integration. With an Android™ Jelly Bean 4.3 operating system and Google® GMS certification, the VSD231 allows users to experience thousands of multimedia-based applications for Android™, from social networking to cloud services.
The SD-A235 is now available at an MSRP of $699.00(USD) and the VSD231 is now available at an MSRP of $659.00(USD).
For more information about ViewSonic's VDI products solutions, visit the Desktop Virtualization information page. For further news and information about ViewSonic, visit ViewSonic.com and follow on Facebook, YouTube and Twitter.
About ViewSonic
Founded in California in 1987, ViewSonic is a world leader in display technology. As an innovator and visionary, ViewSonic keeps the world connected with a portfolio of professional level display solutions that includes LED monitors, interactive commercial displays, and projectors. Our line of smart displays, thin and zero client endpoints, and cloud computing platforms continue to enhance the way we compute, collaborate, communicate, and connect. To find out more about ViewSonic, visit http://www.viewsonic.com.
ViewSonic's Finch Club offers our resellers an opportunity to benefit from specialized product training and discounts. To sign-up, visit http://www.finchclub.com.
This news release contains forward-looking statements that reflect the Company's expectations with regard to future events. Actual events could differ significantly from those anticipated in this document. Trademark footnote: All corporate names and trademarks stated herein are the property of their respective companies.