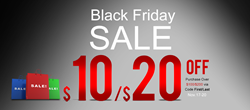 (PRWEB) November 24, 2014
For the coming special Friday, Tidebuy, a famous wedding dress maker and retailer, has launched a great promotion for many products, especially the beautiful colored wedding dresses (http://www.tidebuy.com/c/Color-Wedding-Dresses-5476/). Customers can get the best choice with amazing discounts, up to 90% off. Don't hesitate to go shopping at Tidebuy.com.
It is easy to buy colored wedding dresses in different sizes and colors now. Besides that, this selection is also famous for delicate craftsmanship, elegant style and perfect lines. All products are made from excellent materials. In addition to the promotion of wedding dresses, Tidebuy's 3D bedding sale is offered at the same time.
According to the CEO of Tidebuy, the company provides big sales for Black Friday every year, from Nov. 27 (04:00) – Nov. 29 (04:00). In the promotion, buyers can "spend $100, get $10 off; spend $200, get $20 off; spend $1,000, get $100 off." Worldwide clients can enjoy the one-stop shopping experience on the website. They do not need to worry about the delivery, because Tidebuy promises it will send the goods in a short amount of time. Tidebuy mostly uses DHL and EMS to do its shipping.
The CEO says, "Tidebuy also has refund and return policies in place. If you are not satisfied with the product that was shipped, you can launch a dispute and will be refunded your cash. It is a good place to buy perfect gifts."
In fact, Tidebuy is a reliable company that has a long history. Before launching each collection of its outfits, Tidebuy will study the market carefully. So, its products are very popular in the market.
About Tidebuy
Tidebuy is a professional online supplier in the international market. The company offers thousands of special occasion gowns and fashionable accessories. Also, it offers the newest fashion information on its Facebook page (https://www.facebook.com/tidebuy). Its hot items include wedding veils, wedding dresses, graduation dresses, shoes, bags and others. All of these items are offered at attractive low prices. The company has promised that all of its items are made with top-quality materials and fast delivery. For more information, just visit the website.