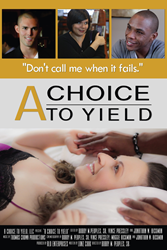 Definitely on the Date Night list!
Atlanta, Georgia (PRWEB) November 24, 2014
Last year this time, the motion picture, A Choice to Yield, was pitched at the 2013 American Film Market in Santa Monica, CA, where distribution companies gave invaluable feedback. RLO Enterprises LLC (RLO) embraced the advice and revamped A Choice to Yield, introducing a new twist while maintaining the story based on the novel A Choice to Yield by Lonz Cook. RLO is seeking distribution once again. The movie premieres June 2015.
A Choice to Yield…women supporting each other through challenges of life..., fills the screen with action by action narrations, flashing images of Sex in the City, and shows a pinch of self-revelation and discovery similar to Eat Pray Love. It's a story with a message that women can understand.
A Choice to Yield movie trailer is available on YouTube https://www.youtube.com/watch?v=zZgcIPUHzsU and on the new website http://www.achoicetoyield.com. The movie trailer is very well received with comments such as, "Definitely on the Date Night list! Awesome story line from my Marine Brother," says Barry Swartzwelder, November 11, 2014.
RLO hopes movie goers leave with the same emotions as those who have read the novel: "The drama and friendship connections will make you think of your own inner circle of friends; at times making you wish you could jump into the story to share your thoughts with these characters," says K. S. Redlack, March 28, 2013.
http://www.IMDB.com/title/tt3085778 and http://www.Facebook.com/Achoicetoyieldthemovie
Movie Production companies:
The Peoples Network is an Atlanta video production company concentrating on the development of powerful and creative video production projects. We offer high quality, attention-getting results designed to meet and achieve specific goals and/or target markets of each client.
Three Peace Production is a comprehensive multimedia endeavor. Our areas of development include photography, cinematography, videography, and music production. We are involved in short to feature length film projects, web series, music videos, EPK's, and live events.
JWH Productions, LLC, is a Georgia-based production company focused on producing documentary feature, narrative feature and commercial projects. JWH's first feature film is the award-winning football documentary "Three Days at Foster" directed by Keith Dunnavant. JWH has produced and developed several reality television pitch pilots, commercial projects, and is currently in post-production on a sports feature titled "Roberta."
Soundtrack produced by Thomas Crown Production in Atlanta and released November 18, 2014, on CDBaby.com.
###