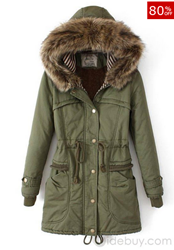 (PRWEB) November 28, 2014
As everyone knows, Cyber Monday is a crazy shopping day. Owing to meeting the demands of its customers, Tidebuy is now providing many big promotions on its website. Customers can even buy their favorite products at only 15% of the current prices. The discount are up to 80% off. So Customers can enjoy the huge savings and free shipping (for orders above $88) from Dec. 1 – 4 2014.
With the development of network technology, more and more people are willing to shop on the internet. As a leading company in fashion industry, Tidebuy provides the best outfits with reasonable prices. Customers can pay less money for high quality dresses and other fashion products. In addition, Tidebuy accepts payments through several major platforms which include PayPal, Western Union, Bank Transfers and MasterCard. So it is very convenient for customers to shop at Tidebuy.
The marketing manager states, fashion overcoats are indispensable items for both men and women. Although it is not easy to buy a desirable overcoat at a low rate, customers can choose a favorite from Tidebuy (http://www.tidebuy.com/c/Overcoats-101053/). Along with overcoats, Tidebuy offers thousands of other fashion items, such as jewelry, shoes and so on. Smart clients should not let the chance go. Click to find more: Tidebuy.com's special Monday accessories sale for women
The buying process is very simple. It is obvious that Tidebuy is a friendly platform for customers. The sales staffs are very patient and careful. Customers can make a phone call when needed.
About Tidebuy
Tidebuy is a professional online supplier in the international market. The company offers thousands of extensive special occasion gowns and fashionable accessories. Also, it offers newest fashion information on its Facebook (https://www.facebook.com/tidebuy). Its hot items include wedding veils, wedding dresses, graduation dresses, shoes, bags and many others; they are all offered at acceptable low prices. The company has promised that all its items are provided with top-quality materials and fast delivery. For more information, just visit website.