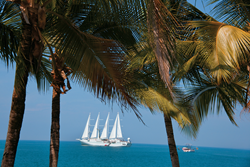 Seattle, WA (PRWEB) November 24, 2014
Starting today, Windstar Cruises is giving thanks with a Best of the Tropics Sale that features up to 73% savings on voyages to Caribbean, Tahiti, and Asia. Guests who book a cruise by December 12, 2014, will enjoy this year's lowest fares on Windstar's exotic itineraries departing December 2014 through September 2015. Voyages start at $1,449 per person.
All voyages in the Best of the Tropics Sale will feature Windstar's new Private Events, a spectacular onshore experience created exclusively for Windstar guests. These complimentary events are crafted to give guests an in depth local experience on each cruise. Some examples include Hoi An: Dreams of Floating Lanterns, an interactive experience that showcases lion dances, lantern-making, and traditional Vietnamese music; and Bora Bora, Dinner on Your Private Motu, a traditional Tahitian feast complete with fire dancers.
For those looking to enjoy the pristine beaches, secluded coves, and trade winds of the Caribbean, Jewels of the Windward Islands is the perfect fit. Guests who dream of sailing Asia's coastlines and exploring the exotic beauty, history, and cultures of these regions will love Southeast Asia Unveiled. No matter which voyage they choose, guests sailing with Windstar Cruises will always enjoy pampering without pretense, extraordinary destinations, and casual elegance on board what feels like their own private yacht.
To learn more about the featured voyages and take advantage of Windstar's Best of the Tropics Sale, contact a travel professional, visit the website or call Windstar Cruises at 800-216-3453.
About Windstar Cruises
Windstar Cruises operates a fleet of small luxury cruise ships known for its intimate yacht style experience and unique voyages to the world's best small ports and hidden harbors. Its three recently renovated sailing yachts carry just 148 to 310 guests and cruise to 50 nations, calling at 150 ports throughout Europe, the South Pacific, the Caribbean, and Central America. In May of 2014, Windstar launched Star Pride, the first of three newly acquired power yachts. In May of 2015 the company will launch Star Breeze and Star Legend. The power yachts, with a capacity of 212 guests each, will double the size of Windstar's fleet, making the company the market leader in small ship cruising with 300 or fewer passengers, with a total of 1,242 berths. The additional capacity will open up new itineraries such as voyages to Southeast Asia, Arabia, Iceland, and beyond. Windstar was recently named Condé Nast Traveler's #1 small ship cruise line in the world.
For more information including rates and itineraries, contact a travel professional or call Windstar at 800-258-7245, or visit http://www.windstarcruises.com.