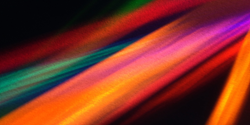 Fond du Lac WI (PRWEB) November 25, 2014
The American Artist Series is in its fourth year of awarding Artist of the Year in each of the 50 states. TOSCA, the organization in the Twin Cities that comprehensively discusses Theatre, Opera, Shakespeare, Culture and Art, each year searches for art all over the United States, looking for "that special, unique 'something' that only talented, dedicated and inspired artists can provide." TOSCA's goal is to bring attention to artists who excel in their work and art.
Anthony Dallmann-Jones, featured on page 70 of the 2014 Fall/Winter magazine, is the first Wisconsin artist from Fond du Lac awarded Artist of the Year. His works are unusual to say the least. He has high-tech metallic film sandwiched into glass, shaped, cut, drilled and mounted on walls or ceilings. Using a single small wattage concentrated white beam he "paints with light" or Light Sculptures. Light Ray Photographs are derived from the Light Sculptures - small background segments blown up to make stunning wall pieces either on a tri-layered aluminum surface, or the photograph is embedded under acrylic glass.
Anthony is former owner of State Street Gallery in Madison, Wisconsin, and now has private studios in Fond du Lac, Wisconsin, and Panama City Beach, Florida. He is also a professor at Marian University in Fond du Lac, Wisconsin, and author of a dozen books.
Editor of TOSCA, Gail Weber, states, "We look for art that is visually beautiful, emotionally or spiritually provocative and/or intellectually challenging. Because we always have the TOSCA reader in mind we do also consider the accessibility of the artists and the art. Therefore we also look for art that we believe the viewer will want to hang in their home or their place of business, art that can be seen on a website and artists that can be reached."
Anthony's website for his art is http://www.SculptedLightS.com