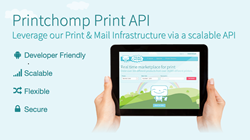 "On average, we add 10 new printers a day to our service. This pace has been steadily increasing over the last 6 months. We now have more than 10,000 printers signed up and anticipate tripling this number within a matter of months." – Joseph Puopolo CEO
Waterloo, Ontario (PRWEB) November 24, 2014
Printchomp, a real-time marketplace for printed goods, announced today that due to increased demand it has extended their API layer to 3rd party developers who need access to the print industry.
When founders Joseph Puopolo and Declan Whelan launched Printchomp in 2012, it was a simple offering - helping connect anyone who needed printed collateral with quotes. With the launch of the Printchomp Print API, developers who offer printed products can now automate their entire print flow, saving time and speeding up the process for the end customer.
"On average, we add 10 new printers a day to our service. This pace has been steadily increasing over the last 6 months. We now have more than 10,000 printers signed up and anticipate tripling this number within a matter of months." – Joseph Puopolo CEO/Founder Printchomp
Printchomp provides printers with various levels of integration and now offers full API integration. They can either use Printchomp's web-dashboard or opt for full integration directly into their existing workflow so orders slipstream right to their pre-press.
While some print APIs constrain customers to specific product sets, Printchomp allows support for unlimited products and options. In addition to a wide selection of standard boxed solutions, Printchomp makes it easy to customize an offering around the needs of the client.
Printchomp now offers full coverage across North America for printing, direct mail and photo printing on demand. With over 100 print products and countless variations, Printchomp can ship as soon as 48 hours.
Since slowly opening the network to the public via word of mouth last week, Printchomp has had over 50 organizations sign up to integrate the API, ranging from individual developers to tier-1 brands.
Developers interested in expanding their app with print functionality can register at http://www.Printchomp.com/api/.