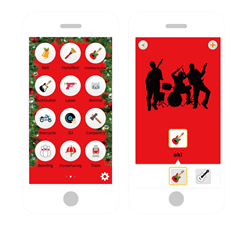 Moff Band is the world's funnest wearable smart toy that turns a child's every movement into realistic sounds.
San Francisco, CA (PRWEB) November 24, 2014
Moff™ Band, the world's funnest wearable smart toy that turns a child's every movement into realistic sounds, will introduce new Holiday sounds and a new parental control setting in a free iOS app update on November 27, Thanksgiving Day.
Kids wear their Moff Band, a Bluetooth connected slap-bracelet, on their wrist and instantly have the ability to play 13 different activities that have more than 30 realistic sound effects connected to their movement. By simply swinging their arms and using their imagination, kids make sounds for playing air drums, air guitar, ninja swords, baseball and more. "We want to make the Moff Band a toy that kids will want to play with year-round, so these new Holiday sounds add to the fun and creativity of the season," said Aki Takahagi, CEO of Moff.
NEW HOLIDAY SEASON SOUNDS AND WALLPAPER
Moff will launch nine new sounds to get kids and parents into the holiday spirit—including Handbells, Chimes and Holiday Air Guitar. Moff Band users can play popular holiday tunes, including "Jingle Bells." In addition, a festive holiday wallpaper will be the new background screen for the Moff Band iOS app (for Apple iPhone and iPad). These Holiday seasonal sounds and wallpaper updates are available as an app download starting on November 27, Thanksgiving Day, for a limited time of one month.
NEW PARENTAL CONTROL FEATURE
Another part of the free Holiday update of the Moff Band app is a new Parental Control feature. This feature will allow parents to hide individual sounds from being played. The Parental Control feature can also be used to hide and unhide sounds found on the app, enabling parents to keep the sounds "new and fresh" for their kids.
MOFF BAND FEATURED BY TOY TREND EXPERT REYNE RICE
Toy Trend Expert Reyne Rice and DailyLounge.com will be featuring Moff Bands as a Hot Black Friday Toy selection on their national media tour, live from New York, on Tuesday morning, November 25, 2014. To review this coverage, and to enter a sweepstakes to win your own Moff Band smart wearable toy to play with, go to http://www.DailyLounge.com.
NEW SOUNDS EVERY WEEK
In addition to the special Holiday sounds release, the Moff Band app will have new sounds and play activities as weekly updates. This way, kids will have a constant flow of new, creative experiences and never tire of playing with the Moff Band. These weekly updates of sounds will include Animals (Cat, Dog, Horse, Tiger sounds), Nature (Wind, Rain, Waves, Thunder sounds), Motorcycle, Train, Bowling, Horse Racing, Carpentry, Laser, Rock Guitar, DJ and much more.
ABOUT THE MOFF BAND

Available now on Amazon at a special introductory price of $54.99 (regular price, $79).
Moff Band app includes 30 sound effects including Air Drums, Air Guitar, Sword, Ninja, Magic Wand, Tennis, Golf, Cooking, Percussion and more; new sounds and play activities made available on a weekly basis as app updates.
Moff Band plays well with others—two Moff Bands can sync to a single iOS device.
Compatible with Apple iPhone 4s, iPhone 5/5c/5s, iPhone 6/6 Plus; iPod Touch (5th gen); iPad (4th gen or later), iPad Mini, iPad Air. Requires iOS 7.1 or later.
For more information: http://www.moff.mobi
###