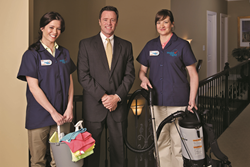 Maid Right cleaners can open their own new business out of their own homes
Alpharetta, GA (PRWEB) November 24, 2014
With a commanding lead in product innovation and the strongest customer guarantee in the residential-cleaning segment, Maid Right presents two exceptional franchise growth prospects: the Master Franchise opportunity for high-powered former corporate leaders and a home-based opportunity for first-time entrepreneurs looking to own a business in a booming industry.
Maid Right, which incorporates the best practices of sister company JAN-PRO, the leading franchise in the commercial-cleaning industry, has grown rapidly since its inception in April 2013. In less than two years, the brand has 30 regional master franchisees in its system, supporting 50 business owners in charge of providing cleaning services to a growing number of residential clients.
Maid Right's management sees room for nationwide expansion unrivaled in the residential-cleaning segment, including nearly 300 master regional territories able to support thousands of entrepreneurs. Adopted from JAN-PRO's successful model, local owners focus on serving clients and strengthening client relationships, while Master Franchisees provide clients, marketing support, training and development.
"Maid Right gives experienced executives the opportunity to run an organization that offers first-time business ownership to others," said Rich Kissane, chief executive of Premium Franchise Brands, parent to Maid Right and sibling commercial-cleaning franchise JAN-PRO. "Maid Right cleaners can open their own new business out of their own homes. The only barrier to expanding is how hard they are willing to work to satisfy customers."
Maid Right has a major competitive advantage with its EnviroShield® system for completely protecting and cleaning homes. EnviroShield® combines a powerful disinfectant with a specially designed process to cover 99.9 percent of all surfaces in your home. Using an electrostatic negative charge, EnviroShield® surrounds and clings to every surface it touches and eradicates all traces of bacteria. EnviroShield® is powerful enough to be the frequent-use cleaner of choice in health care facilities, but it is gentle enough for use in homes, day care centers and nursing homes.
EnviroShield® is the latest cleaning technology in the brand's Maid Right Technics® branded process, which also includes HEPA-filtration vacuums for maximum air filtration and color-coded microfiber cleaning cloths that reduce the risk of cross-contamination during cleaning. That process along with the Maid Right Tracker® feedback system and the Maid Right Signature Clean® program make it the industry's strongest residential cleaning company with the optimal offering for home owners. Maid Right also provides the strongest customer guarantee of any national franchise: Owners respond within two business days to any customer concern made within 24 hours of service. If customers remain unsatisfied after their concerns are addressed, they receive the next cleaning session for free.
"The Maid Right brand offers so many things other residential-cleaning brands don't, like the customer satisfaction guarantee," Kissane said. "It all starts with Maid Right's other competitive advantages. The business owners clean your home, taking pride in their work and establishing trust, reliability and service for a long-term relationship. That commitment to customers as well as EnviroShield® and our color-coded microfiber cleaning system and branded processes are unmatched in the industry."
ABOUT MAID RIGHT
Maid Right Franchising LLC, a subsidiary of Premium Franchise Brands LLC, delivers superior cleaning services for homes. Founded in April 2013, Maid Right has established franchise locations across the United States and Canada. Maid Right's owner-operator business model and branded processes ensures its residential clients get a long-term service commitment from established cleaning crews as well as access to professional-strength cleaning products and new technologies in their homes.