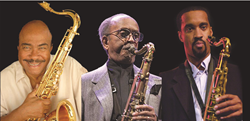 Fort Lauderdale, FL (PRWEB) November 22, 2014
South Florida's premier modern jazz organization is honored and privileged to present these revered artists in concert on Saturday, December 13, 2014 at 8:00 p.m. This concert, produced by South Florida JAZZ, brings together an all-star sextet for the first time ever in concert, an event unlikely to be repeated. The performance will take place at the Rose & Alfred Miniaci Performing Arts Center, 3100 Ray Ferrero, Jr. Blvd on the Nova Southeastern University campus in Davie. Tickets are $40 ($15 for students with I.D.) and can be purchased from Ticketmaster via http://www.southfloridajazz.org or by calling 800.745.3000
A jazz summit is a musical celebration that focuses attention on one instrument and it has been done innumerable times over the ages, especially with saxophones. Many summits, dating back to the 1930s, were jam sessions or "cutting contests," where the participants competed onstage. This summit featuring a young lion and two truly celebrated NEA Jazz Masters will highlight the performance and compositional talents of these three exponents of American jazz music.
Jimmy Heath, vibrant at age 88, is one of the deans of American jazz saxophone. Growing up in Philadelphia, he first played alto saxophone, but the immense aura of Charlie Parker convinced him to switch to tenor. He was a middle child, between bassist Percy, and drummer Tootie (Albert). They eventually formed the Heath Brothers band in 1975 and the band continues despite the passing of Percy in 2005 (who also played for decades in the cooler, and more lucrative Modern Jazz Quartet). Dating to the mid-1940s, Jimmy loved the power of big bands and leads one still today. While primarily self-taught, Jimmy recognized his deficiencies and worked his way through the Schillinger System of Music Composition. He is a master player.
Benny Golson is a spritely 85 and as well as he plays tenor saxophone, he is equally adept as a composer and arranger, crediting the influence of pianist Tadd Dameron. Benny has written numerous jazz standards (e.g. "Killer Joe," "Whisper Not," "Stablemates," and "I Remember Clifford,"), which are still recorded today. Growing up in Philadelphia, he befriended John Coltrane, Philly Joe Jones, the Heath brothers, and Red Garland. After a stint with the Jazz Messengers, he and trumpeter Art Farmer formed the Jazztet that was active from 1959-62 and again in the '80s. For years, Benny devoted himself to composing and scoring for TV and film; but as player, he retains a gorgeous tone, a melodic gift, unimpeachable harmonic ingenuity, and unfaltering stamina. He is erudite, a fabulous clinician and has a persistent twinkle in his eye.
Javon Jackson, a great friend to South Florida JAZZ, accepted the task of organizing this unique summit with these highly entertaining and affable legendary artists. Javon became the chair of the University of Hartford's Jackie McLean Institute of Jazz in 2013. He is a former Art Blakey Jazz Messenger, having held the tenor sax chair for more than three years, then played in the bands of Freddie Hubbard and Elvin Jones. He now leads his own band. Javon, along with South Florida JAZZ artistic director Ron Weber, selected the rhythm section that features the venerable George Cables on piano, veteran bassist Peter Washington, and talented drummer Willy Jones III. The repertoire for the evening is certain to reflect the composing talents of two legendary exponents of the jazz idiom dating from early bebop days and continuing into the modern era.
ARTISTIC PERSONNEL:
Jimmy Heath – tenor saxophone
Benny Golson – tenor saxophone
Javon Jackson – tenor saxophone
George Cables – piano
Peter Washington – bass
Willy Jones III – drums
Funding for this organization is provided in part by the Broward County Board of Commissioners as recommended by the Broward Cultural Division