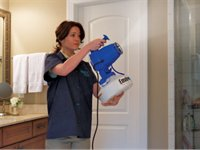 You can protect a child's toy with it, but it still has the efficacy of a hospital-grade disinfectant.
Alpharetta, GA (PRWEB) November 28, 2014
With the peak flu season getting into full swing in December, between 5 and 20 percent of the U.S. population are expected to get the flu, resulting in more than 200,000 hospitalizations for flu-related complications. With the onset of flu season, the Maid Right residential-cleaning brand is stepping up its franchise growth to bring its Signature Clean program and its state-of-the-art EnviroShield® disinfectant product to homes across the country.
Prior to the current flu season, and long before headlines about enterovirus or Ebola surfaced, Premium Franchise Brands — parent company of JAN-PRO and Maid Right — was hard at work developing EnviroShield®. The powerful disinfectant uses a specially designed sprayer to cover 100 percent of all areas in any commercial or residential environment, via an electrostatic negative charge that causes the cleaning solution to surround and cling to every surface it touches and remove all traces of bacteria. However, while it completely eliminates common household bacteria or MRSA and E. coli, EnviroShield®'s formula meets the Environmental Protection Agency's classification for its safest category of household cleaner.
Maid Right sets itself apart from competitors by touting the fact that EnviroShield® cleans and protects every room in your home with a disinfectant powerful enough for a hospital yet gentle enough for a nursery.
"We launched EnviroShield® four years ago, and we're on the cutting edge of disinfecting technology, particularly the green-friendly piece," said Dennis Thompson, Chief Operating Officer for JAN-PRO International Inc. "You can protect a child's toy with it, but it still has the efficacy of a hospital-grade disinfectant. Plus, with EnviroShield®, we can coat 100 percent of all surfaces due to the electrostatic technology that covers everything, while using 70 percent less water than normal disinfecting methods."
EnviroShield® keeps all sanitized environments bacteria- and microbe-free for up to 48 hours, making it the frequent-use choice for homes, day care centers, hospitals and doctor's offices, schools and nursing homes. In your home, consistent service with the same Maid Right professionals, complete with regular treatments of EnviroShield®, deeply cleans every room to protect family members with specific health needs, such as asthma, COPD or sensitive immune systems. At the end of every service call, smells from pets, smoke, garbage or other strong odors will have been eliminated.
EnviroShield® increases the value of a Maid Right franchise for both regional master franchisees and home-based business owners. Operators of either size can grow their businesses with diversified offerings for different households at various price points. Because EnviroShield®'s blend of hospital-grade disinfecting power and green-friendly benefits is available only to Maid Right operators, the franchise brand maintains its competitive advantage in recruiting growth-minded entrepreneurs and in serving clients who value protecting their homes from bacteria.
"We have a lot of special needs and requests, having a medically fragile child in the house, and Maid Right is very responsive to meet those needs that we have, both for my child and me," said Jenni Caruso, a satisfied customer in North Fulton, Georgia. "They've been nothing but helpful and polite. I would definitely recommend Maid Right to our friends and family."
EnviroShield® is part of the latest cleaning technology in the brand's Maid Right Technics branded process, which also includes HEPA-filtration vacuums for maximum air filtration and color-coded microfiber cleaning cloths that reduce the risk of cross-contamination during cleaning. That process, along with the Maid Right Tracker feedback system and the Maid Right Signature Clean program for standardizing the company's cleaning services, add up to the industry's strongest positioning with residential customers. Maid Right also provides the strongest customer guarantee of any national franchise, with any client concern addressed within two business days — and a free cleaning on the next visit if customers are still not satisfied.
While recent events involving infectious-disease concerns have increased the inquiries and business for the EnviroShield® product, Thompson said Maid Right would continually seek to introduce the best advancements in chemistry to EnviroShield®.
"We're always looking for ways to improve our solution and our game-changing application method," he said. "It's very similar to how the best developers periodically upgrade their software. We're in version 2.0 for EnviroShield®, and as technology improves we want to constantly provide greater service to our customers and more value to our franchise partners."
ABOUT MAID RIGHT
Maid Right Franchising LLC, a subsidiary of Premium Franchise Brands LLC, is focused on professional-grade cleaning in a residential setting. It was founded in April 2013 and has established franchise locations across the United States and Canada. Maid Right's owner-operator business model and branded processes ensures its residential clients get a long-term service commitment from established cleaning crews as well as access to professional-strength cleaning products in their homes.