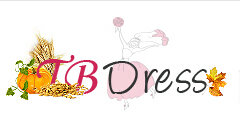 (PRWEB) November 29, 2014
Tbdress.com has recently announced its Christmas Eve Sales, will be available online on Nov. 28, 2014. The special offer will provide ladies many gorgeous fashion products (dresses, shoes and many more) at greatly discounted prices.
The website of Tbdress.com states, "Christmas is a widely observed cultural holiday, celebrated generally on December 25 by billions of people around the world. The biggest annual sales, Christmas sales, are always provided in December."
Tbdress.com is one of the world's largest women's dresses retailers, and its Christmas Sales (a site-wide promotion, up to 90% off) are very competitive among so many online stores.
Tbdress.com names Dec. 2 – 8 as its "Xmas Sales Round 1 - Green Monday Sale". During this period, Tbdress.com claims "Everything Clearance, $5 off for orders above $79 with the coupon code: Green2014". While at the "Round 2 (Dec. 9 - 17)", buyers can enjoy free shipping worldwide (orders above $99, details on the website).
Tbdress.com's sales representative states, "We are pleased to announce the new promotion for 2014, and it is our biggest promotion in this year. Our excellent items are 'top designers approved'. Please note that the big sale will not last for decades. Those how are interested in our fashion products and accessories should visit Tbdress.com as soon as possible."
All the models are now sold at Tbdress.com with great discounts. The models come in various styles; they are elegant, trendy and beautiful. The company keeps focusing on providing customers worldwide a perfect shopping experience. For Tbdress.com, client satisfaction is among the topmost priorities.
About Tbdress.com
Tbdress.com is offering extensive and stylish collections of wedding dresses and other special-occasion dresses at acceptable low prices, and its products include a wide range of wedding dresses, evening dresses, prom dresses, and more. They vow to provide trendy wedding dresses without sacrificing the dress quality. For more details about Tbdress.com's 2014 Black Friday women's boots deals, please visit http://www.tbdress.com/topic/ChristmasInTBdress/